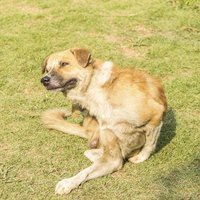 When dogs have allergies, they exhibit symptoms such as sneezing, excessive scratching and itchy eyes. Just like human beings, dogs are susceptible to the discomfort and frustration of seasonal allergies. If you observe symptoms of possible allergies in your pooch, take him to the veterinarian to figure out what the culprit is.
Dog Allergy Basics
When a dog exhibits allergic behaviors, his immune system has started to identify that some substances in his environment are hazardous. These substances are known as allergens. Allergens may have no effect on most pets, but those who are affected will display conspicuous allergic responses. Dogs who have allergies, simply put, are hypersensitive to specific allergens in their environments.
Dogs can have allergies to a wide array of substances: mold spores, cleaning solutions, feathers, dander, weed pollens, grass pollen, tree pollen, cigarette smoke, dust, perfumes, rubber, fabrics, fleas, flea management products, insecticides, and ingredients in meal including soy, wheat, chicken, lamb, beef, dairy, corn and pork. Allergens are typically proteins.
Kinds of Allergies and Symptoms
Dog allergies can be split up into categories such as airborne allergies -- also known as atopy -- contact allergies, food allergies and flea allergies. If your dog has an airborne allergy to mildew or tree pollen, for example, he might exhibit symptoms such as excessive skin itching, ear inflammation, underarm scratching, feet licking, wheezing and face rubbing.
If your dog has contact allergies due to exposure to things like wool, pesticides or flea collars, he might have itching of the stomach and feet, loss of hair, blisters and crimson bumps. Skin irritation is a typical symptom of contact allergies.
Food allergies usually manifest themselves through symptoms such as digestive troubles, itching and breathing difficulties.
Flea allergies frequently display symptoms such as skin irritation, excessive itching, biting and scratching. Dogs with flea allergies sometimes bite themselves so much that they actually pull off significant chunks of their fur. This is particularly common at the bases of their tails.
Allergic Reactions and Dogs
Many diverse circumstances can lead to allergic reactions in canines. Some dogs exhibit allergic reactions to specific medications. Others exhibit allergic reactions to vaccines and bee stings. General signs of allergic reactions to look out for include skin irritation, swollen skin, rashes, hives, itching, sneezing, transparent discharge coming out of the nostrils or eyes, blisters, depression, pain, trouble breathing, coughing and choking. Since allergic reactions can be very dangerous to pets, immediate veterinary attention is vital. Some dogs go into anaphylactic shock as a result of allergic reactions. This type of shock is a potentially fatal immune reaction that calls for urgent veterinary assistance.
Veterinary Assessment
All cases of dog allergies require veterinary assessment. When you take your dog to the vet, she'll perform a physical exam and get details from you regarding his medical history and background. She might run blood or skin tests.
Once your veterinarian is aware of your dog's allergen, your job is to get it out of his living space to the best of your ability. If your pooch is allergic to household dust, for example, more frequent vacuuming might be extremely helpful. Veterinarians also frequently treat allergies and their symptoms in pets through allergy injections, cortisone, fatty acid supplements, antihistamines and immune modulating medications.
If she suspects a food allergy, your vet might suggest an elimination diet to figure out exactly what substance is responsible. Food trials take time; once an allergen is identified, that ingredient is removed from the dog's diet. Vets also sometimes temporarily treat food allergies in dogs with antihistamines, steroids and fatty acids.