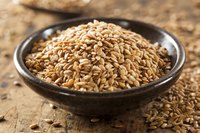 Flaxseeds and flaxseed oil have been used for thousands of years as both medicine and a source of nutrition. The dark gold, or light brown flaxseeds are a good source of fiber, alpha-linolenic acid or ALA -- a form of omega 3 fatty acids -- and protein. Ground flaxseeds are easy to incorporate into your diet by adding them to smoothies, baked goods or soups. Early research suggests flaxseeds may lower men's cholesterol and help prevent prostate cancer.
Unclear Results For Prostate Cancer
Prostate cancer is the most common cancer in men, according to the Centers for Disease Control and Prevention. A study published in Cancer Epidemiology, Biomarkers & Prevention in 2008 investigated flaxseed's effect on men's prostate glands. Prostate cancer patients who were on a flaxseed-supplemented diet experienced a reduction in cancer growth.
However, another study, published in the same journal in 2013, found that higher intakes of ALA, which is found in flaxseeds, was related to the risk of advanced prostate cancer.
These mixed results indicates more research is necessary before recommendations can be made about flaxseeds and flaxseed oil and prostate cancer risk.
May Reduce the Risk of Heart of Disease
The essential fatty acids in flaxseeds may help reduce several cardiovascular risk factors. A study published in the European Journal of Clinical Nutrition in 2007 discovered that supplementing flaxseed oil helped lower blood pressure in middle-aged men at risk for heart disease. A heart-healthy diet that consists of vegetables, nuts, whole grains and legumes along with flaxseed oil may help prevent heart disease in healthy people and in those who have had a stroke or heart attack, reports the University of Maryland Medical Center.
May Lower Cholesterol Levels
Men with high blood cholesterol may benefit from flaxseeds. A study published in Nutrition Research in 2010 investigated the effects of flaxseed on men with moderately high levels of cholesterol. The participants were given flaxseed lignans or a placebo. The results found that the men who received flaxseeds experienced a reduction in cholesterol levels.
Using Flaxseeds
If you want to use flaxseeds to treat any health conditions, consult your doctor for a dosage recommendation. Grind whole flaxseeds with a flax mill for best benefits, because ground seeds are easier for your body to digest and absorb. Ideally, consume freshly ground flaxseed within 24 hours to benefit from its nutrient activity, advises the University of Maryland Medical Center. Flaxseed oil should be refrigerated to prevent it from turning rancid. Buy flaxseed products that are certified free of mercury and other toxic heavy metals.