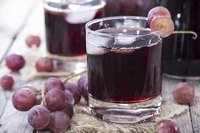 To reap the greatest health benefits from grape juice, choose purple grape juice. Though white and purple grape juices are similar in their vitamin and mineral content, a study in the 2007 issue of Food and Chemical Toxicology reports that purple grape juice contains more polyphenols, the compounds that deliver the greatest health protection. Select juice that is minimally processed and has no added sugars for the healthiest option.
Nutritional Benefits
A 1-cup serving of grape juice, red or white, with no added sugars or vitamin C, contains 152 calories and 37 grams of carbohydrate -- 36 of which are from natural sugars. Though there are traces of vitamins and minerals, the most predominant nutrient in grape juice is manganese. A 1-cup serving contains 0.6 milligrams, or more than 30 percent of the adequate intake of 1.8 milligrams for women and over 25 percent of the AI of 2.3 milligrams suggested for men. Manganese helps maintain strong bones and also can treat premenstrual symptoms, according to MedlinePlus.com.
Heart Health
Heart disease contributes to one out of three deaths in America, according to a report from Johns Hopkins Medicine. Drinking grape juice helps fight conditions associated with cardiovascular disease, including high blood pressure and plaque buildup, according to a review in a 2008 issue of Nutrition Research. The review explains that compounds in grapes and grape products lower cholesterol, fight plaque buildup, reduce pressure in your arteries and help regulate your heart rhythm. All of these actions help prevent and fight heart disease.
Brain Benefits
As you age, you may experience certain changes in your brain, such as forgetfulness or problems learning new things. Grape juice contains numerous polyphenols, or natural compounds, that have positive effects on your brain function. A study in a 2010 issue of the British Journal of Nutrition showed that when participants experiencing early symptoms of memory loss consumed Concord grape juice for 12 weeks, their learning and memory function improved.
The polyphenols in grape juice also interfere with the production and buildup of beta-amyloid, a toxic protein that can accumulate and cause plaque in your brain tissue, which may lead to Alzheimer's disease. According to a report in a 2010 issue of the Journal of the Federation of American Societies for Experimental Biology, you should include grape polyphenols in your diet because they may help prevent Alzheimer's.
Cancer Protection
One of the primary polyphenols in red grape products, such as red grape juice, is resveratrol. A review published in a 2004 issue of Anticancer Research reports that resveratrol stops the development of cancer cells in numerous types of cancer, including breast, cervical, ovarian, prostate, colon, thyroid, stomach, head and neck cancers. The review notes that resveratrol not only inhibits the development of cancer cells, but it initiates death of cancer cells as well.