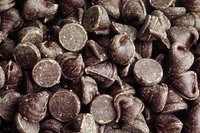 Dark chocolate is increasingly lauded for its health benefits, so it's fair to wonder whether you can get a similar advantage from milk chocolate. Unfortunately for milk chocolate lovers, dark chocolate is better for you. But the good news is that milk chocolate does contain nutrients from cacao beans and it also has a small amount of the same antioxidants found in dark chocolate.
Chocolate Basics
All chocolate begins with beans harvested from the cacao tree. The beans are crushed to produce cocoa solids, then some solids are further processed into cocoa butter and cocoa powder. The cocoa solids, butter and powder, plus sugar and milk, are the basic ingredients used to make chocolate products. The amount of each ingredient makes the difference between dark chocolate and milk chocolate. Cocoa powder consists almost entirely of cocoa solids, while dark chocolate contains about 45 percent to 80 percent cocoa solids. Milk chocolate is made from 5 percent to 7 percent cocoa solids and contains more milk and sugar.
Nutrient Rundown
One ounce of milk chocolate provides 7 percent of the daily value for copper, based on consuming 2,000 calories daily. Copper helps your body produce energy and synthesize neurotransmitters and red blood cells. It's also essential for building and maintaining connective tissues that strengthen your heart, blood vessels and bones. The same portion provides 7 percent of the DV of manganese, which is an antioxidant. When you eat an ounce of milk chocolate, you'll also get about 4 percent of the DV for protein, calcium, magnesium, zinc, iron and vitamin B-12.
Antioxidant Flavonoids
Chocolate's health benefits come from antioxidants in cocoa beans called flavonoids. These phytonutrients may protect your cardiovascular health by keeping blood vessels healthy and fighting inflammation, according to a report in "Antioxidants and Redox Signaling" in November 2011. The amount of flavonoids is related to the percentage of cocoa solids used, which means milk chocolate is not the best source. One ounce of milk chocolate contains 48 milligrams of total flavonoids, according to the U.S. Department of Agriculture. Since the flavonoid content in dark chocolate varies from one product to the next, the best standard for comparison is unsweetened cocoa powder. Just 1 tablespoon of cocoa powder has about double the total flavonoids of an ounce of milk chocolate.
Calories to Watch
Dark chocolate contains enough flavonoids that the University of Michigan Health System, among others, recommends eating up to 1 ounce daily of a brand containing at least 60 percent cocoa solids. Because milk chocolate has a smaller amount of antioxidants, the risk of weight gain from its 152 calories per ounce is not offset by flavonoid-related health benefits. One ounce of milk chocolate also has 15 grams of added sugar. The bottom line for all types of chocolate -- including dark chocolate, which has more calories than milk chocolate -- is to enjoy it in moderation and keep a close eye on the calories you consume.