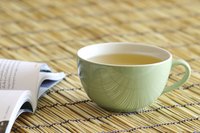 Whether you drink white, black or green tea, it all comes from the leaves of the same plant, Camellia sinensis. White tea, which brews a cup of lightly colored and lightly flavored tea, comes from the youngest buds of the tea plant and is the least processed of all the tea leaves. While white tea leaves may be the youngest, they're still full of nutrients and beneficial to your health.
Cup of Antioxidants
Of all the teas, white tea contains the highest amount of flavonols, also called catechins. These phytochemicals have a lot of antioxidant activity, which means they scavenge free radicals. By protecting your cells against the damage caused by free radicals, antioxidant-rich foods like white tea might help protect your body against chronic diseases, including heart disease, cancer and Alzheimer's disease.
Fat-Burning Nutrients
The catechins in the white tea may also help your body burn fat, according to a 2013 study published in The American Journal of Clinical Nutrition. Catechins increase your metabolism, which in turn may help you burn more fat, especially when you're following a reduced-calorie diet for weight loss. However, it's important to note that white tea is not a cure for obesity but may help you in your efforts at losing weight.
Cancer Protection
Drinking white tea might offer some protection against cancer. A 2015 study published in Food Chemistry tested white tea extract on the proliferation of colon cancer cells. Not only did the white tea extract prevent the colon cancer cells from replicating, but it also protected the normal cells from DNA damage, according to the authors of the study. Although the study showed promising results, further research is necessary -- including research on drinking white tea, not taking white tea extract. However, adding white tea to your usual routine may do more good than harm.
Less Caffeine
If you like the health benefits that tea has to offer but have a hard time tolerating the caffeine content, then you may want to consider trying white tea. Compared to black and green tea, white tea contains the least amount of caffeine. Although the amount of caffeine in a cup varies depending on how much tea you use and brewing time, 1 cup of brewed white tea contains 10 milligrams to 15 milligrams of caffeine, while a cup of green tea contains 9 milligrams to 50 milligrams and black 42 milligrams to 72 milligrams.