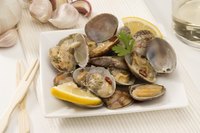 Vitamin B-12 plays a crucial role in your body's nerve system and the formation of red blood cells. This water-soluble vitamin is found naturally in a variety of animal products like beef, chicken, eggs, dairy and fish. Most breakfast cereals and grains are fortified with B-12. The dietary reference intake for vitamins is based on age, with people age 14 years and older needing 2.4 micrograms per day. Pregnant women and breast-feeding moms need 2.6 micrograms and 2.8 micrograms, respectively.
Absorption of B-12
To absorb B-12, your stomach must have enough hydrochloric acid and a protein called intrinsic factor. When your consume foods with protein and B-12, hydrochloric acid separates vitamin B-12 from the protein. Then, B-12 combines with intrinsic factor and is finally absorbed in your body. Older adults may have trouble absorbing B-12 from natural dietary sources alone due to their body's inability to supply hydrochloric acid. Fortified foods or dietary supplements are better absorbed in this instance. In other cases, some people lack the ability to make intrinsic factor, which may require shots or large oral doses of B-12. If left untreated, this condition is called pernicious anemia.
Role in the Nervous System
Vitamin B-12 has been shown to play a crucial role in the development of the nervous system, mood, cognitive function and dementia. B-12 and folate are involved in the conversion of homocysteine to methionine, which is important for brain function. According to a review published in the 2006 issue of The Lancet, B-12 deficiency is associated with cognitive change, peripheral neuropathy, affective disorder and subacute combined degeneration. Other symptoms can include numbness and tingling in the hands and feet. Neurological recovery can be based on two factors: the duration of symptoms and severity of the disability before diagnosis and treatment. Treatment options may include weekly injections of B-12 for several months; however, a full recovery may still not improve symptoms.
Role in Blood Cell Formation
According the Centers for Disease Control and Prevention, the occurrence of megablastic anemia in the United States is likely due to vitamin B-12 deficiency. Common symptoms include skin pallor, weakness, fatigue, shortness of breath and palpitations. Athletes may be at risk for B-12 deficiency because the nutrient plays a crucial role in red blood cell formation. The production of red blood cells is needed to transport energy to vital organs in the body such as your heart and lungs. If an athlete is severely deficient in B-12, this can impair health and physical performance during exercise, and supplementation is generally recommended. If you are not deficient in B-12, supplementation has shown to have no effect on increasing energy level or improve athletic performance.
B-12 Deficiency
Vitamin B-12 deficiency can cause other symptoms, including fatigue, weakness, constipation and weight loss. According to the CDC, one in 31 adults age 51 years or older has a vitamin B-12 deficiency. This can be due to multiple factors such as inadequate dietary intake seen in vegetarians and vegans, a decrease hydrochloric acid production, a history of gastrointestinal surgery, digestive disorders or a diagnosis of pernicious anemia. If you feel you are at risk for B-12 deficiency, talk to your doctor.