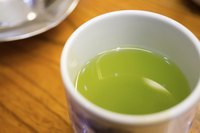 Green is one of the three main tea varieties, with the other two being oolong and black. Like other teas, the green variety contains substances that might provide health benefits. For example, green tea may promote healthy blood sugar, lower cholesterol, fight certain cancers and promote heart health, according to the University of Maryland Medical Center. However, because tea has bio-active components, it has potential side effects. Discuss green tea consumption with your doctor.
Possible Gastrointestinal Effects
Green tea causes digestive side effects in some people, such as diarrhea or constipation, loss of appetite and stomach upset. If you have a sensitive stomach and these side effects become bothersome, you may need to reduce how much you drink or discontinue drinking green tea. Additionally, green tea may increase acid reflux symptoms, according to a study published in the October 2011 edition of the Digestive Diseases and Sciences.
Cardiovascular Side Effects
Regularly drinking green tea significantly lowers diastolic and systolic blood pressure, say researchers of a study published in the September 2014 issue of Scientific Reports. While this side effect is beneficial for most people, green tea may increase the effectiveness of medication prescribed to control blood pressure. Talk to your doctor about your green tea consumption so that he can adjust your medication as needed.
Iron Absorption Issues
Compounds in green tea called polyphenols reduce intestinal absorption of heme iron -- the kind of iron found in animal foods -- according to a study published in the June 2011 issue of the Journal of Food Science. Researchers noted the effect was dose-dependent, so the more green tea polyphenols present, the more iron absorption was inhibited. Potential effects on non-heme iron, the type found in plant foods, were not examined.
Avoiding Green Tea Side Effects
The caffeine in green tea may cause sleeping problems, nervousness, anxiety and irregular heartbeat if you drink too much. To avoid these side effects, limit your consumption of caffeine from tea and other beverages to 300 milligrams per day. Depending on how you brew it, an 8-ounce serving of tea has between 20 and 90 milligrams of caffeine.
Avoid drinking green tea on an empty stomach to lessen digestive problems. To prevent iron absorption problems, drink green tea a few hours before eating iron-rich foods or iron-containing supplements. You may need to avoid green tea if you're having problems with gastroesophageal reflux disease, or GERD.