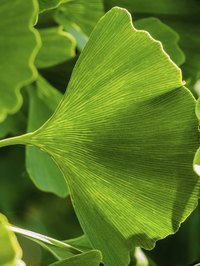 Ginkgo biloba is an herbal medicine perhaps best known for its potential to limit the risk for dementia. It may also be helpful for premenstrual syndrome, eye problems and atherosclerosis. The evidence for any benefits from taking this herb is still preliminary and conflicting, however, so speak with your doctor before adding ginkgo supplements to your daily regimen.
Reducing Dementia Symptoms
A review article published in "BMC Geriatrics" in 2010 found that ginkgo biloba seems to be more effective for improving the symptoms of Alzheimer's disease and other forms of dementia than a placebo, but also notes that the effects of the supplement were moderate and may not be clinically significant. Another study, published in the "International Journal of Geriatric Psychiatry" in November 2011, found that people with dementia with neuropsychiatric features showed an improvement in symptoms after taking ginkgo biloba extract, while patients taking a placebo deteriorated.
Minimizing PMS Symptoms
You may benefit from taking ginkgo supplements if you get PMS. A study published in "The Journal of Alternative and Complementary Medicine" in August 2009 found that taking these supplements may decrease the severity of premenstrual symptoms when taken each day between the fifth and 16th day of the menstrual cycle. However, these results are preliminary, and further studies are needed to verify this effect and determine the best dosage.
Maintaining Eye Health
Age-related macular degeneration and glaucoma are two of the more common eye problems people experience as they get older. A review article published in the "Cochrane Database of Systematic Reviews" in 2013 noted that while a couple of small trials have shown that this herb may help slow the progression of AMD, the evidence is still too preliminary to recommend ginkgo for this use. A review article published in "Molecular Vision" in 2012 noted that ginkgo may also be beneficial for slowing the progression of glaucoma. However, larger studies are needed to verify these eye health benefits.
Limiting Atherosclerosis Risk
Ginkgo biloba might affect some of the factors involved in developing atherosclerosis, or plaque in your arteries. Plaque builds up in your arteries where your blood vessel cells are damaged, and blood clots sometimes stick to damaged areas of your arteries, narrowing the opening further and making atherosclerosis worse. Ginkgo offers the benefits of antioxidants -- fights cell damage -- and prevents platelet clumping, an essential step in blood clot formation. These effects might translate into ginkgo supplements reducing the risk for atherosclerosis. However, so far the results are still preliminary and based mainly on animal studies. For example, a study using rats published in "PLOS One" in June 2011 found that ginkgo extract may help protect against atherosclerosis due to substances called terpenes and flavonoids.
Side Effects and Drug Interactions
Don't use ginkgo biloba supplements if you're taking warfarin or NSAIDs, such as ibuprofen, as these medications interact and could increase your risk for bleeding. These supplements can also interact with seizure medications, antidepressants and diabetes medications. Ginkgo may cause upset stomach, nausea, dizziness, headache, gas and diarrhea. It is not recommended for anyone with a bleeding disorder. It's not recommended for pregnant women, as it may bring on early labor, and could bring on seizures in people with epilepsy.