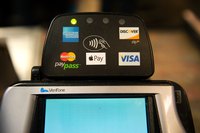 Debit and credit cards both allow you to access money without having to carry around large amounts of cash. However, debit cards function differently because they are linked to a specific bank account and the money is withdrawn immediately. You can use a debit card anywhere Visa or Mastercard are accepted.
Preventing Overspending
A debit card can prevent you from overspending. You may be tempted to keep spending on a credit card with a high limit, but with a debit card you can only spend what's in your bank account. Some debit cards do have overdraft protection, but they will charge an overdraft fee. For example, your bank might let you spend up to $500 more than you have in your account, but charge you $20 each time you overdraft. If you don't use the overdraft function, you'll never have to pay interest on debit card purchases because you don't carry a balance like you can on a credit card.
Convenience
A debit card allows you to access your bank account so you don't have to stuff your wallet with cash. Plus, if you have a joint account, you can each carry a debit card and have access to the entire account balance. In addition, if you need cash, you can request cash back when you buy something or from ATMs (though a fee may apply).If you get robbed or lose your wallet, you can cancel the card to cut off any use by someone else. If you carry cash, chances are once the wallet is gone, so is your chance of getting the money back.
Transaction Fees and Immediate Debits
A disadvantage to debit cards is the payment is immediately withdrawn from your account. With a credit card, you have a little time to make a payment and avoid paying interest. Another disadvantage is that some debit card issuers charge a fee for each transaction, which makes it more expensive to use than cash. In addition, unlike a credit card, you can't cancel anything you buy with a debit card.
Limited Protections if Lost or Stolen
You could be on the hook for more fraudulent charges with a debit card than a credit card. If you report your debit card stolen within two days, your liability is capped at $50. But, if you take between three and 60 days to report it, your liability jumps to up to $500. There's no limit to how much you're liable for after 60 days.
Doesn't Build Your Credit Score
Unlike a credit card, using a debit card won't help your credit score. As long as you pay your credit card on time each month, you build up your payment history, which accounts for 35 percent of your credit score. The credit bureaus don't get reports on how well you handle your debit card.