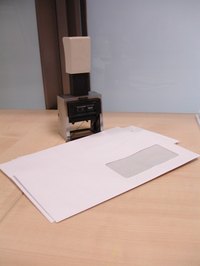 Writing a professional business letter could be the difference between having your letter read or buried on someone's desk underneath piles of other unread letters. Block style, where the entire letter is single-spaced and left justified, if the most popular letter format. Other acceptable formats include modified block and the semi-block formal.
Letterhead or Sender's Address
Many companies have an established letterhead on all company correspondence with the company logo. If your company does not have a letterhead, include the sender's address just below the date.
Date
Include the date you write or mail the letter. Place the date just below the letterhead or above the sender's address if no letterhead is used.
Inside Address
Include the name, address and the title of the person you are writing to, along with the address. If you do not know the person's title, typing Ms. or Mr. is appropriate.
Reference
A reference line is optional. If it is essential that the reader know from the beginning what the topic is, then you should include. If you include a reference, precede it with "Re:" and place it one line before the salutation
Salutation
This is the opening greeting of your letter and first and best chance to make a good impression on your reader. Unless you are a close associate of the recipient, it is not appropriate to address him or her by his or her first name. This flags your letter as unprofessional. Typing, "Dear" and then Mr. or Ms. and last name are always professional sounding openings.
Body
Clearly state your message. Avoid unnecessary words. Your goal is to write a concise letter that is informative and professional. Maintain a civil and friendly tone, even if you have a negative message to deliver. Your tone has much to do with how your reader will respond. Make sure you make appropriate paragraph breaks. Each new subject should begin a new paragraph. It is a common practice to include as a last paragraph a call to action. This is an instruction to the recipient about any response you expect. You leave this as your final thought.