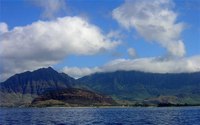 The state of Hawaii is a chain of eight main islands located in the Pacific Ocean, southwest of the continental United States. Each year thousands of tourists are drawn to Hawaii's abundant beaches, colorful flora and fauna and particularly its tropical climate.
Geography
Although tropical climates are usually associated with extreme heat and high humidity, the strong trade winds that blow from the east across the islands help to keep Hawaii's temperatures and humidity level fairly moderate throughout the year.
Seasons
Most of Hawaii only experiences two seasons: summer (April or May until October or November) and winter (November or December until March or April). Contrary to what most people might believe, it does snow in Hawaii, on the top of Mauna Loa.
Temperatures
In summer, the islands' average high temperatures are usually in the upper 80s Fahrenheit during the day and in the mid 70s during the night. In winter, temperatures usually reach the low 80s Fahrenheit during the day and the mid-to-high 60s during the night.
Rainfall
Hawaii receives most of its rain during the winter months, with an average annual rainfall of 70 inches across the entire state, with a few areas receiving more than 400 inches of rainfall a year.
Storms
Intense wind and rain accompany severe storms in Hawaii, so many areas are prone to flooding. Each year, the area of ocean surrounding Hawaii experiences roughly a half dozen hurricanes, also called tropical cyclones, although these storms rarely affect the islands.