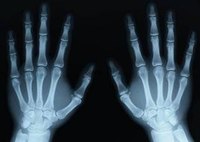 Tingling fingers is a symptom that can be caused by several different medical conditions. Also known as Paresthesias, tingling fingers can often be described as a prickling feeling or numbing or burning sensation. Some of the conditions that may cause tingling fingers are Carpal Tunnel Syndrome, Multiple sclerosis or frostbite. If you find yourself experiencing a numbing sensation or tingling in your fingers, check with your doctor.
Effects
If symptoms go unchecked by a doctor, your hand could become completely paralyzed or lose all feeling. Common effects include numbness, prickling, and burning.
Types
Medical conditions that may cause tingling fingers include Carpal Tunnel, Diabetic neuropathy, Multiple sclerosis, Panic disorder, and Peripheral neuropathy.
Identification
Warning signs include a sensation similar to that of your hand falling asleep or going numb. You may also feel a prickling or burning sensation, as if your hands were being pressed against pins and needles. Tingling fingers or loss of feeling can often be very painful.
Potential
Without proper treatment by a medical professional, your hands and nerves could have long term damage. It is very important to seek medical treatment as soon as possible if you experience any of kind of tingling sensations.
Prevention/Solution
To prevent tingling fingers, or other symptoms related to this medical condition, avoid repetitive work. If that cannot be done, be sure to use proper posture when seated at a desk, and take care to not apply too much pressure when using the hands and fingers. You can also do hand exercises throughout the day to keep them agile and flexible. Doctors advise people who have experienced tingling fingers or symptoms of Carpal Tunnel to wear splints to keep wrists immobilized.