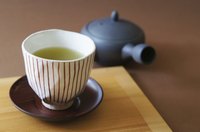 When you drink your green tea won't necessarily make a big difference unless you have a specific health concern, such as a micronutrient deficiency, or you're trying to lose weight.
Drinking Tea After Meals
Green tea may interfere with the absorption of some micronutrients, including thiamine and iron. For this reason, it may be beneficial for people who are deficient in these nutrients to drink their tea at least two hours after meals. If you love drinking tea with your meal, however, a review article published in the Journal of the American College of Nutrition in 2006 noted that adding lemon to your tea could minimize this effect. The thiamine interaction occurs mainly in people who are deficient in thiamine and also don't get enough vitamin C.
Drinking Tea With Meals
Although further research is necessary, green tea may have a slight weight-loss benefit, especially if you drink it either before or with your meals. A study published in Nutrition Journal in 2010 found that drinking green tea with meals appeared to increase feelings of fullness and decreased the desire to eat. This could help people stick to low-calorie diets.