BMI, an Indicator of Healthy Weight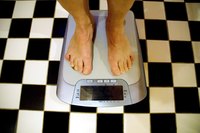 BMI refers to body mass index and is calculated by taking your weight in kg and dividing it by your height in meters squared. It defines a range, either underweight (below 18.5), normal weight (18.5-24.9), overweight (25-29.9), or obese (30 and over) for males and non-pregnant and non-lactating females aged 18 to 65. A BMI of 18.5 to 24.9 for a 5-foot-8 stature is about 55 to 75 kg, or 120-165 lbs.
The Hamwi Method for Determining Ideal Body Weight
The Hamwi method is another way to estimate an ideal body weight based on height. If you are a male, use 106 lbs. for the first 5 feet plus 6 lbs. per inch over 5 feet. If you are a female, use 100 lbs. for the first 5 feet plus 5 lbs. per inch over 5 feet. Subtract and add 10 percent to the final number to create a range to encompass all types of body frames. A 5-8 male's range would be 138 to 169 lbs., and a female's would be 126 to 154 lbs.
Bottom Line
BMI and the Hamwi method are two criteria that health care professionals use to determine healthy weights based on height. Although these are good estimations of weight for height, a 5-8 height is not the only factor to consider in what's a healthy weight. Distribution of weight as measured by waist circumference and percentage of lean and fat tissues are equally important considerations.