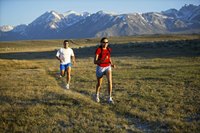 Running shorts typically have a built-in layer of mesh that serves as underwear. Though many runners opt to go commando in these shorts, the decision to wear -- or not wear -- underwear is ultimately a personal one, and the right choice may change depending on the day, time and the specific shorts you've chosen.
Fashion Considerations
If you don't have a strong preference one way or the other, the decision to wear underwear may come down to a matter of fashion and practicality. Not all running shorts are snug-fitting, and the built-in underwear may not perfectly conform to your body. For modesty's sake, particularly if you'll be lifting your legs or doing aerobics after your run, you might opt to wear underwear in such a scenario. If your shorts fit snugly and you're comfortably covered, though, there's no reason you have to wear underwear.
Health Considerations
Sweat pooling around your groin provides an ideal location for bacteria and fungus to grow. The moisture-wicking properties of many running shorts can help prevent this, making cotton underwear a health hazard that can lead to yeast infections and jock itch. If, however, your running shorts don't do a very good job wicking away moisture, you rewear them without washing them or they fit extremely snugly, moisture-wicking underwear may be a better strategy for protecting your health.
Support and Comfort
Although the underwear built into running shorts is designed to provide support, this support isn't sufficient for all men. Some prefer a very snug fit, or the added support of a jock strap. If you find you're constantly adjusting the fit of your shorts or like you're not getting enough support, snug-fitting underwear or a different fit or style of running shorts could be the solution.
Practical Issues
Particularly if you're not running in hot weather or don't sweat much, you might wear your running shorts again prior to washing them. For some people, wearing underwear reassures them that the shorts are still clean for the second use. Particularly if you tend to sweat a lot along your groin or inner thighs, wearing underwear with your shorts can help you avoid the trapped sweat that leaves running shorts in dire need of a wash.