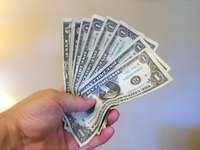 Many seniors, those on disability and others who are simply struggling to make ends meet are forced to survive on a fixed income. The trouble with a fixed income is that it's very difficult to manage unexpected financial situations because all of your income is already accounted for. For those looking for a guide on how to live on a fixed income, the good news is that it's certainly possible to do so with some planning and effort.
Create a Budget
If you're living on a fixed income, it's important to set aside enough money to take care of everything you'll need each month. A budgeting plan will prevent you from spending more than you can actually afford. There are several budgeting methods you can put into practice.
The envelop method is one of the easiest budgeting methods. You start by listing all of your monthly expenses such as rent/mortgage, car payment/transportation, groceries, insurance, utilities, phone bill, etc. Make sure to total the amount of your expenses. Once you have a complete list, get an envelope for each expense and write the expense on the front of the envelope.
When you get paid, get the cash amount of money necessary to cover all of your monthly expenses. Put the appropriate amount of cash in the designated envelopes. When an expense comes up, you will pay it from the money set aside in the appropriate envelopes.
Track Your Spending
Once you have a budget in place, you will need to make sure that you track all spending. Your budget won't do you any good if you don't track how your money is being spent. If you're really good about balancing your checkbook, then you can use your checkbook or debit card to help track your spending.
Another good way to keep track of spending is to spend a month writing down every single item you purchase. You should write down everything from a packet of gum to larger monthly expenses like rent. Keep a small notepad to write expenses down while you're away from home. You can transfer the information to an Excel spreadsheet and total your expenditures on a weekly or monthly basis.
Keeping track of what you spend will make it easier to identify areas where you may be spending too much. It can also help you determine areas where you may be able to cut back even further.
Shop at Yard Sales, Flea Markets and Thrift Stores
Consumerism has made it far too easy to find the latest fashions, furniture and home goods at your local thrift store. There's no reason to pay full price if you can avoid it. Besides, some of the carefully selected used furnishings are designed to outlast newer, poorly constructed furniture items. Sometimes all that's needed is paint or a slipcover to breathe new life into furniture or a few threads to mend used clothing.
Grow Your Own Food
Depending on the climate where you live, you can significantly reduce your grocery bill by growing your own vegetables. What's even better is that you don't need lots of land to do it. A small garden bed plot or a few containers allow you to grow tomatoes, zucchini, bushels of green beans, carrots, egg plant, herbs and more.
Reduce the Amount You Pay for Utilities
The U.S. Department of Energy estimates that the average American family spends $1,600 a year on utilities. This is a spending area where small, consistent changes can add up to big savings.
Turn your water heater down to 120 degrees Fahrenheit, wash clothes in cold water, use compact fluorescent light (CFL) bulbs and turn off lights when you leave a room. During summer months keep your thermostat set no lower than 78 degrees Fahrenheit, and during the winter keep it set no higher than 68 degrees Fahrenheit. Unplug cell phone chargers, televisions and other electronic items when not in use. Always shop around for the best rate. Sometimes a competitor will offer a better deal than the company you're with.