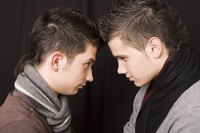 Conflict is a normal occurrence in businesses, teams and organizations. Conflict can be used to train, teach and inspire members of the team toward positive change. Leadership plays a vital role in managing and resolving conflict among team members and employees. Leadership needs to stay informed and involved in the daily affairs of the team in order to understand the reason for the conflict and gain insight on how to find a resolution. Leaders who know how to identify and deal with conflict in a proactive manner build strong and successful teams.
Causes
A leader who can identify the cause of the conflict will be able to find common ground between the two parties and present a solution. Conflict can be caused by a difference in opinion, belief or values. Misunderstanding, personality clashes and a breech in trust are also causes of conflict.
Consideration – Causes
People are complex and each person has various perceptual filters they use to process information. Many times, a person can make a statement and mean nothing by it but the other person perceives the speaker was being critical and conflict arises.
Benefits
Leader's able to resolve conflict will benefit themselves and the team in a variety of ways. According to Mind Tools, the most common benefits are increased understanding, increased group cohesion and increased self-knowledge. Everyone involved in the conflict is presented with the opportunity to gain greater knowledge and understanding of how each person operates and perceives information. The team grows because they're able to face opposition and overcome obstacles together, creating team unity. The people involved in the conflict are able to see how they respond to situations and handle conflict, helping them implement positive change.
Response (Individuals)
Leaders and teammates respond to conflict in different ways, according to North Dakota State University. People can avoid the conflict, leaving it unresolved, which can lead to greater frustration and conflict in the future. Others accommodate the conflict to resolve it. For example, if someone is upset that another person took a pen, the person may return the pen to end the conflict.
Response (Team)
According to North Dakota State University, compromise is a resolution where both parties find common ground to meet expectations. Competition is an unhealthy way to deal with conflict, as it causes more conflict by one person attempting to compete with the opposing person. Collaboration encourages a team to work together to find a solution to the conflict.