Large animal veterinarians meet the medical needs of cattle, horses and other large animals, distinguishing them from their small animal counterparts, who work mainly with pets, such as dogs and cats. Because they work primarily with farm animals, large animal specialists are sometimes known as farm animal or food animal veterinarians. The U.S. Bureau of Labor Statistics reports that large animal veterinarians generally have lower salaries than small animal veterinarians, but that there is often less competition for large animal jobs.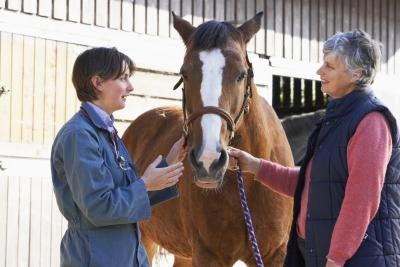 Job Features
Large animal veterinarians generally work in rural areas, often driving long distances from their offices or clinics to farms and ranches to provide care for sick or injured animals. They often work long hours outdoors in all types of weather conditions. In addition, large animal specialists may have to provide treatments or even perform surgeries in less-than-sanitary conditions, according to the Bureau of Labor Statistics. Fewer veterinary school graduates appear willing to take jobs working with large animals. The Milwaukee Journal-Sentinel reported in 2009 that the United States faces a shortage of large animal veterinarians, which poses risks to the safety of the nation's food supply.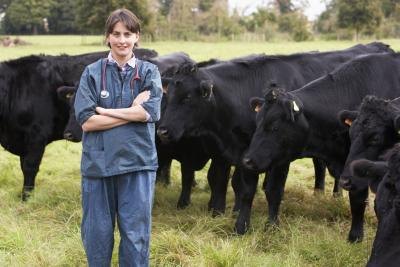 Average Salaries
The Bureau of Labor Statistics reported that veterinarians earned a median salary of $79,050 a year in 2008. Salaries ranged from $61,370 to $104,110 for the middle 50 percent of veterinarians. However, the agency did not distinguish average earnings for large animal veterinarians from those of small animal veterinarians.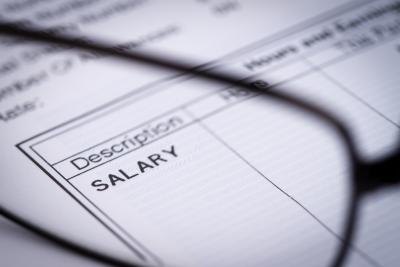 Starting Salaries
Starting salaries in 2008 for veterinarians who worked exclusively with large animals averaged $62,424 a year, the Bureau of Labor Statistics reported. That was lower than the $64,744 average annual starting salary for veterinarians who work in urban areas with dogs and cats. In addition, veterinarians who worked predominantly with large animals earned an average beginning salary of $57,745.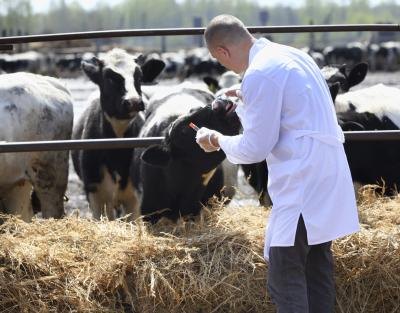 Equine Veterinarians
A small segment of large animal veterinarians limit their practice to horses. Equine specialists account for about 6 percent of all veterinarians, the Bureau of Labor Statistics reported, adding that these specialists had average starting salaries of $41,636 a year in 2008.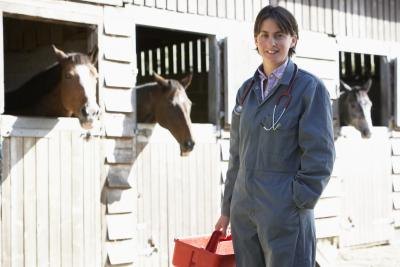 Potential
The Bureau of Labor Statistics projected excellent job opportunities for veterinarians, adding that prospects for large animal specialists should be even better because of the lower earnings and because of less competition for jobs in rural areas where many veterinarians do not want to work. Because of the shortage of large animal veterinarians, their earning power is likely to increase, the Journal-Sentinel reported.