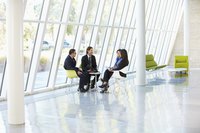 Managing liquidity effectively can mitigate the risk of insolvency and late fees on your business's routine payments, among other cash-related threats. For these reasons, managers use special techniques to keep cash flows and cash reserves at the optimal level and in balance with the company's operating objectives.
Ratio Analysis
Liquidity ratios provide insight into an organization's financial position and the sustainability of its operations, given trends in its historical performance. These ratios measure how well a company is managing its current assets relative to its liabilities, allowing management to adjust cash balances to meet the needs of the organization. Some of the main liquidity ratios used by management include the current ratio, quick ratio and cash ratio, which measure the ability of a company to meet its obligations with different categories of current assets.
Horizontal Analysis
One way to manage liquidity is to perform a horizontal analysis, which calls for the trending of cash accounts or liquidity ratios using historical financial data. For instance, managers can trend the cash and cash equivalents account balance using the three previous years' financial statements. This simple analysis can give managers an idea of whether liquid assets are being depleted or whether the company has excess funds that can be invested to generate a return. Trending liquidity ratios helps management assess the company's ability to pay off current liabilities with current assets such as cash and accounts receivable.
Vertical Analysis
A vertical analysis calls for listing items on the balance sheet as percentages, allowing management to assess the company's cash position relative to current and long-term debt, among other line items. If cash and cash equivalents make up a small proportion of current assets, and current liabilities are large, managers can adjust the cash account to meet the needs of the organization. Vertical analysis makes it easy to identify the optimal level of liquidity, given the financial position of a particular organization.
Risk Management Plan
A comprehensive liquidity risk management plan helps to ensure an organization has the funds and collateral it needs to meet its obligations. The plan needs to identify the working capital and cash reserves required to meet expected and unexpected changes in operations. Changes in cash flows can adversely affect the day-to-day operations of an organization, making it difficult to fund payroll or pay rent, among other routine monthly payments. Conversely, too much cash on hand can mean an organization is failing to take advantage of investment opportunities or make adequate returns on its assets. Risk management plans can help managers adequately fund their cash accounts, thereby optimizing liquidity.