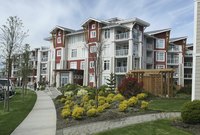 Buying a condominium comes with responsibilities most single-family homebuyers don't face. Examine the condo association rules that govern a complex and you'll find that every owner must pay condo fees. Fee amounts and their coverage vary, depending on the association and state law, but there are typical fees you can expect: monthly fees and special assessments. Before buying, check the condo association's governing documents and bylaws. They include specifics about fees and the expenses covered. Reviewing the Covenants, Conditions and Restrictions, or CC&Rs, prepares you for the additional housing costs.
Monthly Fees Go to Expenses, Reserves
The condo association's board of directors budgets annually for the upcoming year's expenses and determines a monthly fee. Part of the monthly fee goes toward the predictable expenses the association covers for common areas. The remainder goes toward the association's reserves, which it uses to cover the long-term repairs and improvements in the common areas. If the association predicts short-term and long-term expenses accurately, you likely will pay only a monthly fee.
Special Assessments Cover Unexpected Costs
Should the condo association's expenses exceed its budget, the board may impose an additional fee, known as a special assessment, for a specified amount of time. Monthly fees may fall short of covering expenses if the board underestimates costs, if repairs are needed sooner than anticipated, if the association faces an additional financial burden such as a lawsuit or natural disaster, or if condo owners fail to pay their share of monthly fees.
Fees Are Limited to Common-Use Costs
Condo fees typically cover only the common areas, such as parking lots, recreational areas, clubhouses and laundry facilities. They cover services for common use, such as landscaping, trash and snow removal, certain utilities and exterior maintenance such as painting, paving and roofing. Fees pay for any outside property management company that oversees the complex's day-to-day responsibilities. They also pay for the master insurance policy, which protects the association against certain losses. A master policy usually covers only exterior damage, and you must pay for your own homeowners policy.
Costs May Fluctuate With Needs
Condo fees are subject to change periodically. They may increase annually or during the year due to special assessments, and the condo association must notify you of upcoming fee hikes. The condo board can increase the amount of fees without a unanimous vote by owners; however, you should consult the association's CC&Rs to confirm the rules regarding fee changes.