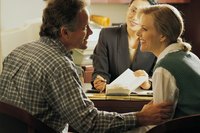 When you place money in a certificate of deposit at a bank, you're getting a higher interest rate than ordinary checking and savings accounts offer. In exchange, you're committing to keep the money in the bank for the period specified by the CD terms. Should the financial need arise, there's nothing stopping you from pulling your funds out early, but it will cost you.
Six Months of Interest Lost
Early withdrawal penalties vary based on the bank. A Bankrate 2014 survey of such penalties for one-year and two-year CDs found the most common penalty is six months' interest. For CDs with a maturity of less than a year, the most common penalty is three months' interest. However, some banks dip into the principal when funds are withdrawn early by charging a flat fee as well.
Investigate Before Investing
Before investing in a CD, note how the bank charges for early withdrawals. In the case of a partial withdrawal, some banks calculate the lost interest based on the entire amount of funds in the CD, while others base their calculation on the money being withdrawn. If the penalty is solely interest based, removing only what you need protects some of your gains.
Try to Negotiate
There isn't any sure way to avoid penalties, but it never hurts to contact the bank and see what its representatives can do. You may be able to get the penalties waived if you're a longtime customer and have other accounts in good standing. This is especially true if you inadvertently removed funds from a CD that automatically rolled over before you could act.