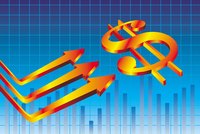 Investment bankers earn high salaries. Senior vice presidents and managing directors can earn more than $1 million a year, including bonuses, according to the Careers in Finance website. Average salaries for investment bankers vary by region and a person's job title. Investment banking professionals begin their careers as analysts or associates before advancing to vice president or higher.
Analysts and Associates
The website Careers in Finance reported that beginning analysts, who handle much of the routine work at investment banks, earn average starting salaries of about $125,000 a year, including bonuses, but added that compensation ranges from $90,000 to $150,000 a year. Associates, meanwhile, receive compensation packages that range from $62,000 to $135,000 a year, according to data from the Payscale.com website.
Senior-Level Positions
With experience and a successful performance record as an analyst or associate, investment bankers may advance to a vice president position. From there, successful vice presidents can advance to the positions of director, managing director or department head. Careers in Finance reported that vice presidents earn an average of $500,000 a year, but that annual compensation can range from $350,000 to $1 million a year. Directors earn an average of $800,000 a year, while managing partners and department heads receive annual compensation packages worth an average of more than $1 million and $3 million, respectively.
Features
Compensation packages for investment bankers include not only the base salary but also annual bonuses and commissions from the sale of investments, according to Payscale.
Considerations
Careers in Finance reported in June 2010 that major investment banking firms continue to pay generous salaries to their employees, despite attacks by politicians that these bonuses contributed to the global economic crisis that threatened world financial systems in 2008.
Warning
The high salaries in investment banking do not come easily. Investment bankers have long hours, sometimes working more than 50 hours a week, the U.S. Bureau of Labor Statistics reported. In addition, many high-level investment banking jobs require a master's degree, such as a Master of Business Administration (MBA).