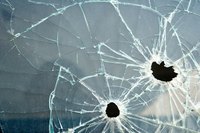 In every state, a driver operating a motor vehicle must be covered by some form of auto insurance. The minimum auto insurance requirements vary between states, but in all cases, drivers must provide a minimum level of coverage for person's receiving bodily injury in an accident, as well as property. However, specific coverage of damage to a car's glass is not required. Some policies will cover damage to glass, while others will not.
Types
Auto insurance policies have two main types of coverage: liability and comprehensive. Liability covers damage to persons and to other vehicles. The comprehensive section of a policy covers losses through other means, such as damage to the car itself, including to the car's glass. While in keeping with state laws, all auto insurance policies have liability coverage, only some have comprehensive coverage.
Features
If your policy contains comprehensive coverage, then damage to your glass is covered. However, the amount of damage to the glass will vary by policy, depending on the size of the deductible on glass damage. The deductible is the minimum amount that the policyholder is required to pay for losses before coverage kicks in. For example, in a situation in which a car's windshield incurs $500 worth of damage and a policyholder has a policy with a $200 deductible on glass damage, the customer will pay $200 for repairs and the insurance company will cover the next $300.
Considerations
According to Glass.net, Florida, Kentucky, Massachusetts and South Carolina are considered "zero deductible states" with regard to windshield repair. This means all drivers with comprehensive coverage are not required to pay a deductible on their windshield's repair or replacement.
Warning
In some cases, filing a claim for repairs to a car's glass may raise your insurance premiums. However, in other cases, particularly if the company deems the claim a "no fault" claim -- meaning the policyholder did nothing to cause the damage -- the company will not raise your premiums.
Expert Insight
It may be preferable to attempt to have damage to your class repaired rather than replaced. According to the insurance company Geico, if the crack or chip is smaller than the size of a dollar bill, the damage may be easily fixable. If this is the case, a slight blemish will be left on the windshield, but Geico will waive the deductible.