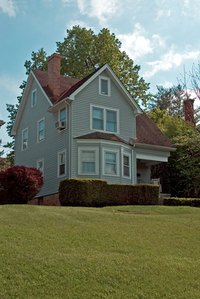 A Federal Housing Administration loan can help you become a homeowner without requiring perfect credit, a large down payment or a high income. The FHA insures or "backs" mortgage loans that are provided by regular mortgage lenders so that the lender can recover some of its losses if the home goes into foreclosure. Although there are several benefits to an FHA loan, the agency uses specific guidelines for approving and insuring your loan.
Credit Requirements
The FHA generally provides automatic loan approval for credit scores above 620. If your score is below 620, you will be able to have an interview with an FHA representative to explain the situation. If you have a bankruptcy or foreclosure on your credit report, your ability to qualify for an FHA loan is based on the amount of time that has passed since the foreclosure date or bankruptcy discharge.
Income and Debt
The FHA will examine your monthly income in comparison to your overall debt. The proposed mortgage payment should not be more than 31 percent of your gross income per month, while your mortgage plus all of your other debts should be no greater than 43 percent of your monthly gross.
Loan Amounts
The FHA sets maximum loan amounts based on the size of the home, such as single-family, duplex or three-family. In addition, maximum loan amounts are based on the average home values in the county where you plan to purchase. Your loan limit may be higher in counties with higher home values.
Down Payment
The FHA requires a down payment of at least 3 percent of the home's purchase price. However, the FHA will allow you to obtain the down payment from a relative as long as the money is a "gift." You will have to certify that the money is a gift through a letter from your relative.
Interest Rates
FHA loans typically have fixed rates, just like regular, non-FHA mortgages. The rate your lender offers will be in line with current market rates and you may be able to negotiate rates between lenders.
Insurance
The FHA requires that you purchase mortgage insurance, which ensures that the lender would be able to recover some of the loss if you were unable to continue paying your mortgage. You can pay mortgage insurance either as a yearly cost or as part of your monthly payment. For FHA backed mortgages, you will pay insurance for five years or until the loan-to-value reaches 78 percent. Loan-to-value is the percentage of the home's value that is mortgaged. For example, an $80,000 loan on a home that is worth $100,000 has a loan-to-value of 80 percent.
Fees and Points
Your FHA lender will charge fees on the loan, such as origination fees, closing fees, attorney fees and appraisal fees. Plus, you will have the opportunity to pay discount points, which can reduce the interest rate. One point is equal to 1 percent of the loan amount.