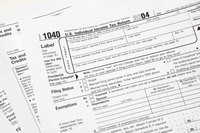 When you owe money to a lender and the lender forgives the debt, it is considered a cancellation of debt by the Internal Revenue Service (IRS). Once the debt is forgiven, then you are no longer required to pay it back and it is considered income. However, there are some notable exceptions to this general rule. The most common types of debt to be cancelled by a lender are credit card and foreclosure debt.
Taxability
In most instances, canceled debt is treated as taxable income. Use box 2 of the 1099-C you receive from the lender to determine the amount of your canceled debt. Then, include the canceled debt amount on your form 1040 or 1040NR on line 21. Do not use forms 1040-A or 1040-EZ to report cancellation of debt.
Exemptions
Certain loans are considered qualified exemptions and therefore are not treated as income when the loan debt is cancelled. Often, federal student loans are cancelled for graduates who take jobs in service professions. This cancellation of debt is excluded from ordinary income.
Exclusions
Debt cancelled during Title 11 bankruptcy is the most common exclusion. Use IRS Form 982 to indicate that the canceled debt is a bankruptcy exclusion and attach the form to your 1040. Exclude your cancelation of debt if you were insolvent (your assets were worth less than the fair market value of your liabilities) immediately before the debt cancellation, or if you had qualified farm or business indebtedness. Although a cancellation of debt exclusion deems the cancellation nontaxable by the IRS, it also requires that you reduce your tax attributes. Reducing tax attributes requires that you complete Part II of Form 982.
Considerations
Including cancellation of debt as income can complicate your tax filing situation. For instance, if the debt is related to farm rental activity, you will also need to attach IRS Form 4835 to your income tax return or Schedule F if the cancellation of debt relates to farm debt. Attach Schedule E if the debt is related to nonfarm rental property and attach Schedule C if the debt is related to a sole proprietorship.
Assistance
If you need help figuring your reduction of tax attributes or filing your 1099-C, call the IRS at 1-800-829-1040 between 7 a.m. and 10 p.m. In addition, you may also be able to receive assistance through the IRS's Voluntary Income Tax Assistance (VITA) program. This free program helps low-income and elderly taxpayers file their income tax every year. To locate the nearest VITA site, call 1-800-906-9887. If you are in the military, members of the Armed Forces Tax Council (AFTC) at your military installations are available to assist you.