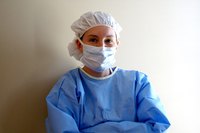 Because medical care can be so expensive, many people in the United States opt to purchase health insurance coverage. This prevents them from having to pay the full amount for routine or emergency office visits, medications and procedures. Some people are able to cover the full cost of their medical insurance on their own, but others rely on third-party pay.
Definition
Third-party pay refers to payments made by a third party to an insurance company on behalf of the policyholder(s). Third-party payments reduce the cost of medical insurance for the beneficiary.
Payment Amount
Third-party pay may cover just a portion of the medical insurance costs, or it may cover the entire cost. In most cases, costs are split between the policyholder and the third party, with the third party assuming the larger portion of the cost.
Examples
Employers frequently pay a portion of their employees' medical costs as a third party. The government also offers third-party pay for insurance through programs such as Medicare and Medicaid; HMOs are another example. Some organizations such as unions also contribute to insurance costs as a benefit to members—dues for these organizations typically are smaller than the amount paid by the organization to the insurance company, so people still are able to save money on insurance through this method.
Beneficiaries
Third-party pay extends to anyone named on the insurance policy. For example, an employee may name his wife on his insurance policy through work. His employer, the third party, thus would contribute to the wife's health coverage, even though the wife doesn't work for the employer.
Percentage of Payment
In the United States, the healthcare system relies heavily on third-party payments. Only about 12 percent of health insurance costs are paid directly by the consumers (policyholders), according to the International Liberty website. The disproportionate amount paid via third parties has led some people to assert that the healthcare system in the United States is inefficient. The argument is that the current healthcare system permits Americans to purchase insurance with someone else's money, putting the burden of healthcare on organizations or individuals who don't utilize the policies for which they pay.
History
Prior to the 1960s, third-party pay was virtually nonexistent due to the fact that most individuals paid their doctors directly—insurance companies simply had not become prominent. If a person couldn't afford to pay his medical bills, he could apply for government assistance or go to free/reduced-cost clinics. In the mid 1960s, with the advent of Medicare and Medicaid, the insurance industry grew rapidly, according to Maryann Knag of the Pay the Doctor website. As a result, third-party pay also became more common.