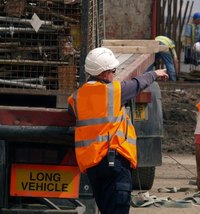 Classifying workers as subcontractors for tax purposes is highly desirable for businesses in the United States. Doing so allows businesses to take tax deductions from income without having to withhold taxes or make the employer's share of Social Security and Medicare payments to the subcontractors. However, the Internal Revenue Service is very concerned about businesses improperly deducting payments to subcontractors, and focuses on these deductions during audits.
Significance
Individuals performing work for a business may either be classified as employees or subcontractors. If the workers are classified as subcontractors, for tax purposes the business needs only issue payment to the subcontractors. At the end of the tax year a single IRS form--Form 1099-MISC--is issued, which documents the total payments to the subcontractor. When payments were below $600 for the tax year, the business may omit the issuance of Form 1099-MISC. Payments to subcontractors may be directly deducted from gross income on the business' income tax return.
Employees
From a tax standpoint, the process for paying workers classified as employees is significantly more complicated and costly. Businesses must withhold taxes from workers, remit those taxes, and are often required to file quarterly tax returns reconciling employee income and tax remittances. At year-end, employees must be issued an IRS form, Form W-2, regardless of income earned during the year. In addition, employers are required to pay into Social Security's Old-Age, Survivors, and Disability Insurance program and Medicare's Hospital Insurance program on behalf of employees. Although limited at the upper-levels, these required payments typically total 7.65 percent of wages paid to employees.
Effects
As a result of the more onerous filing requirements and the additional cost of classifying workers as employees, employers are often anxious to classify workers instead as subcontractors. In addition, there are numerous favorable legal, non-tax, consequences to this classification. Although these consequences will vary from state to state, they generally include the liability for unemployment insurance, worker's compensation costs, and the expense of complying with various federal and state employee safety standards.
Requirements
To properly deduct the cost of workers of subcontractors, the IRS typically requires the worker to meet the "right-to-control" standard. This standard means that the worker, rather than the employer, controls the manner and means through which the contracted results are achieved. There are few hard and fast rules as to how this standard is met. Rather, the IRS considers a number of different factors. These factors include the level of training given to the worker, the level of instruction, the interaction with coworkers, the control over the worker's scheduling, the provision of tools and materials, and the reimbursement for costs.
Warning
Improperly deducting worker costs as those from subcontractors may expose a business to significant back taxes and penalties.