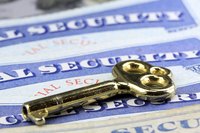 If you are like most employees in the United States who pay income tax, the government also deducts a Social Security tax from your paycheck. When you retire, you get a portion of what you've paid in Social Security back every month. The Social Security program also pays benefits to disabled workers and the surviving spouses and dependents of deceased workers who provided a family's primary income. There are several places to get free information about your account and the program itself.
Federal Government
The federal government offers a plethora of free information on the Social Security website. You can find general Social Security information under the "Benefits" tab. The website provides resources for certain types groups of people, like minorities or the disabled, in the "Information For" section. If you want to inquire about your specific Social Security benefits, you can view your account through the mySocialSecurity page. The Internal Revenue Service also provides the public with free information on Social Security via its website.
Nonprofit Organizations
Several nonprofit organizations provide legitimate information on the Social Security program. AARP, for example, has a whole page on its website devoted to information on Social Security, including benefits, answers to questions and recent news. The National Academy of Social Insurance also provides free information on Social Security.