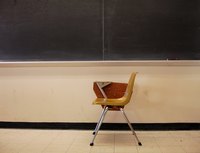 South Carolina teachers participate in a defined benefit retirement plan. All teachers must personally contribute 6.5 percent of their monthly salary to their retirement account. All retirement contributions are kept in an interest-bearing account until employment termination. Accounts earn 4 percent interest.
Time Frame
Teachers can receive full retirement benefits after completing 28 years of service or after reaching the age of 65. Finalizing retirement account calculations may take up to nine months, but in most cases teachers will receive a monthly benefit check within 30 days of retirement. Teachers can retire early with 25 years of service by taking a penalty of 4 percent for each year remaining to complete 28 years of service.
Features
Teachers who leave employment before meeting retirement stipulations may withdraw their personal contributions along with any interest earned on those contributions. Teachers are not allowed to borrow funds from their account while still employed. If a teacher dies either before or after retirement, a death benefit will be payed to their named beneficiary.
Benefits
Monthly benefit amounts vary according to each teacher's average final compensation. The average final compensation is calculated by adding up each teacher's 12 greatest consecutive salary quarters and then dividing that amount by three. To determine exact benefits, teachers in South Carolina should schedule an appointment with a retirement systems counselor.
Considerations
Teachers should submit an application for retirement at least six months before their last anticipated day of work to ensure that benefits begin promptly. All retirees should complete all retirement paperwork within 90 days of their last working day.
Expert Insight
If a teacher in South Carolina returns to work after retiring, he can continue to receive a monthly retirement benefit, but he must also contribute to his retirement account again through a payroll deduction. He will not earn interest on these new contributions and he will not receive any additional service years credits.