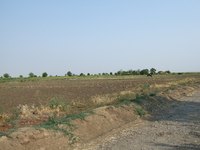 The IRS includes improvements that a real estate owner makes to vacant land when assessing taxes on the vacant land. Vacant land is land that does not include a house or other building that residents live in, or another structure such as a factory, which is necessary for the owner to gain economic benefits from the land. Since vacant land may become useful if the owner constructs an improvement, the classification of the property may change after improvement.
Definition
You can construct some improvements on the land, and the IRS will still consider it to be vacant land. Land on which you have not built any improvements on is known as raw land, or natural land. A real estate parcel that includes a road or a parking lot may still be vacant if it doesn't include electricity or gas hookups necessary for you to use it for business purposes.
Depreciation
The IRS defines a vacant land improvement as real estate, not personal property. This definition is important because a small business owner can use the Section 179 deduction to gain a large tax deduction in one year instead of gradually using depreciation deductions over a period of several years. Although the IRS does not allow you to depreciate land, improvements such as fences and bridges will degrade over time, so you can report depreciation on them.
Capitalization
When you add an improvement to land, the IRS requires your to capitalize this cost rather than reporting it as an expense. Therefore, you may not deduct the cost of building a bridge or a road on the land as a business expense, and may only recover costs by using depreciation. Capitalization increases the value of the land, which affects the gain or loss you must report to the IRS if you sell the land.
Repairs
The IRS separates repair costs from land improvements. You may not capitalize any repair costs, but you can report repair costs as expenses that affect income in the current year. If you replace an old fence with a new fence, or fill potholes in a road, these are considered repair costs that do not add value to the property.
Land Improvements
Land improvements are structures built on the property which then become a part of the property. They include sidewalks, sewer systems, and streetlights. If the city or county assesses taxes on the vacant land owner and uses these taxes to build necessary structures, these are land improvements according to IRS regulations.