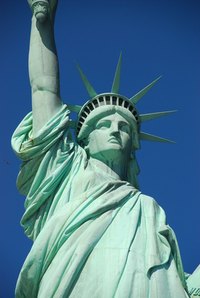 The world famous Statue of Liberty, which stands 151 feet, 1 inch tall on Liberty Island in the Hudson River next to New York City, was a gift from France to the United States.
Freedom and Democracy
According to the American Society of Civil Engineers, the statue's pedestal was faced with 13 layers of brick, symbolizing America's original 13 colonies. For millions of immigrants who came to America to escape religious and ethnic persecution, the Statue of Liberty symbolized freedom from oppression, particularly during the late 19th and early 20th centuries, when the number of democratic republics worldwide were in the minority. At the statue's feet is a broken shackle and chain, which represents America's freedom from tyranny.
Oppportunity
For millions of immigrants who came to the United States by ship and were processed through Ellis Island, the Statue of Liberty also symbolized that America was the land of opportunity, where newcomers could leave the "old world" of Europe and start life over: a new business, a new profession, a new family.
Enlightenment
The U.S. Park Service says that the Statue of Liberty's official name is "Liberty Enlightening the World" as it depicts a woman wearing a stola holding up a flaming torch to light the way to freedom, showing humanity the path to liberty.
History
The statue's interior structure was designed by Alexandre Gustave Eiffel, who created the Eiffel Tower, and Frederic Auguste Bartholdi was the statue's sculptor. Completed in France in July 1884, the Statue of Liberty was transported by ship in 350 individual pieces, arriving in New York Harbor in June 1885. Official dedication ceremonies took place on Oct. 28, 1886.
Fun Fact
According to the U.S. National Park Service, the Statue of Liberty is made of 125 tons of steel and 31 tons of copper 3/32-inch thick (less than the thickness of two pennies put together). Struck by lightning many times throughout each year (exactly how many is unknown), the statue is grounded through the massive concrete and granite base on which it stands.