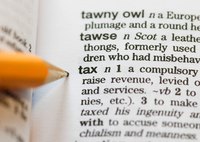 The revenues necessary to run state governments and programs is generated through the collection of different taxes. Two of the most popular revenue streams are income taxes and sales tax. These two types of tax are quite different and affect taxpayers in different ways.
Function
State income tax is collected from individuals based on their wages and other income. Each year, the taxpayer must file an income tax return to ensure the proper amount of tax has been paid. Sales tax is collected when goods and services are sold. The seller is required to collect the sales tax and pay it to the state.
Effects
State income tax is called a progressive tax. Higher income earners pay both a higher percentage and amount of income tax. Sales tax is considered to be regressive because lower-income individuals pay the same rate and a higher proportion of their earnings to sales tax.
Identification
Forty-five of the 50 states have a state sales tax. The exceptions are Alaska, Delaware, Montana, New Hampshire and Oregon. Seven states do not have an income tax and two only collect income tax on dividend and interest income. The income tax-free states are Alaska, Florida, Nevada, South Dakota, Texas, Washington and Wyoming. The limited income tax states are New Hampshire and Tennessee.
Significance
Individual income tax and sales tax are the two largest revenue sources for the states. In 2009, of the total taxes collected by the states, 31.9 percent was from sales taxes and 34.4 percent was from individual income taxes. States without one of the two sources generally receive over half of their revenues from the remaining tax.
Considerations
Sales tax revenues will slow for a state during an economic slowdown. A drop in the sales of expensive items like automobiles can have a significant effect on sales tax revenues. Income tax revenues tend to come from higher income earners, making states dependent on maintaining good jobs and entrepreneurs. In California, half of the income tax revenue comes from just 140,000 taxpayers, or less than one percent of the population.