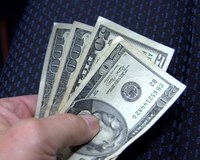 The Internal Revenue Service (IRS) defines market rate interest in order to prevent the use of tax-free or lower-rate loans. As abuses are possible if loans are offered at below-market rates, the IRS attaches all loans that do not have sufficient interest rates with a minimum market rate. Whether or not interest payments are made on a loan, the IRS levies tax on the interest using its own market rate interest determination.
Role
The role of the IRS defining market rate interest is to assign a interest rate to a loan that is made interest-free, or at a below-market rate. Any normal business loan, such as one made through a bank, would be charged an interest rate, and the bank would be taxed on the interest received. The IRS attaches interest rates to below-market rate loans to ensure that lenders do not avoid tax payments that the IRS would normally receive.
Abuses
The IRS also developed a market rate interest system to counter abuses of the tax code through the transfer of wealth, usually among family members. As children are usually in a lower tax bracket than their parents, wealthy individuals could loan money for investment purposes to children, who would pay lower taxes on the investment gains generated. By this process, the money would remain in the family, but lower overall taxes would be paid. The IRS market rate interest system effectively eliminates this loophole, as any tax gains realized by the transfer would be countered by the tax paid on the loan.
Consequences
As a result of IRS rules, interest is attached not just to loans meant to avoid taxation, but also to loans that are genuine and temporary among family members. For example, if a father lends a son $50,000 to purchase a home, the IRS requires that this loan generate interest as well, even though most parents would not want to burden their children with finance payments.
Determination of Market Rate
The IRS publishes interest rates for federal income tax purposes monthly. As of April 2010, the short-term adjusted applicable federal rate was just 0.53 percent, while the long-term annual rate was 3.95 percent.
Imputed Interest and Taxation
The difference between the amount of interest charged on a loan and the amount the IRS deems to be a fair market rate of interest is known as imputed interest. Whether or not the lender actually receives any interest payments, this imputed interest is fully taxable to the lender.
Employees
For employees who receive below-market rate loans from their employers, the difference between the interest paid and the market rate as determined by the IRS is considered additional taxable compensation to the employee. This mandate applies only to loans above $10,000, unless smaller loans were made with the express purpose of avoiding income tax.