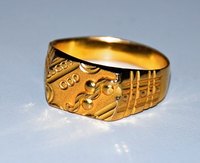 Gold is considered one of earth's most precious metals, and one of its primary uses has been to make jewelry and decorative objects. Unfortunately, when a piece of jewelry like a ring is not pure gold, it may react with your body and turn your finger green due to an allergic reaction or from the oxidation of the non-gold metal used to make the ring.
Gold in Jewelry
Gold has been used throughout history for objects of personal adornment. Ancient Egyptians used gold for jewelry, statues and for objects created to accompany the dead into the afterlife. Gold jewelry is often associated with wealth and status--even today--and many of the techniques used to create pieces thousands of years ago are still employed today.
Gold is Typically Alloyed
Since gold is soft, it typically needs to be alloyed, or combined, with other, stronger metals. These additional metals add heft to jewelry without increasing the precious metal content. Common metals combined with gold include silver, copper and nickel.
Green Finger from Oxidation
Certain metal alloys--particularly silver and nickel--will change color after being exposed to oxygen over time. When you wear a piece of jewelry, this oxidation can cause your skin to turn green, particularly if your skin has a naturally high level of acidity or if the weather is very humid. The lower the karat purity of your gold, the less pure gold it has and the more likely you are to get a green finger.
Green Finger from Allergies
Another reason that your finger may turn green is from an allergic reaction to the alloy metal in the gold ring. Lotions or soaps may also interact with the metal and cause this problem. Cleaning your jewelry regularly may help prevent your finger from turning green.
Is This a Problem?
The green finger effect is only a problem when it is the result of an allergic reaction. Most times the green or black discoloration on your skin is harmless, and can be easily washed off with soap and water. Wearing the same piece of jewelry for an extended period of time can exacerbate the problem. Switching to pure gold that has no alloy metal is a solution.