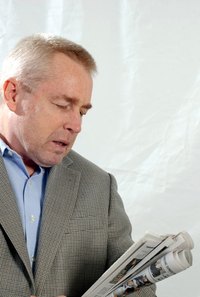 Newspaper carriers are usually classified as independent contractors, not the newspaper's employees. So many states, but not all, exempt them from the company's worker's compensation insurance for on the job injuries. These carriers must buy their own accident insurance or a company-provided insurance plan to cover their medical costs.
Newspaper Carriers Are Usually Independent Contractors
The National Labor Relations Board (NLRB) considers newspaper carriers to be independent contractors. The Internal Revenue Service (IRS) regards an independent contractor as someone whose employer controls only the work's result and not how it is accomplished. In this case, the newspapers must be delivered by contract, but the carrier, as an independent contractor, can choose any type of vehicle and a substitute carrier.
Worker's Compensation Insurance Ensures Safety
Worker's compensation insurance is no fault industrial insurance coverage that pays for medical treatment of workers injured on the job or who develop an occupational disease due to their work. Insurance for employees injured on the job began with the Workingmen's Compensation Act of 1916 (Kern-McGillicuddy Act), which provided financial assistance to federal employees injured on the job. In 1911, Wisconsin became the first state to establish a worker's compensation program. Another nine states followed the next year and most others by 1921. The idea was not so much to compensate injured workers as to provide an economic incentive for employers to provide safe working conditions.
Newspaper Carriers Usually Aren't Covered Under Worker's Comp
Along with other independent contractors, such as real estate agents, sole proprietors, temporary workers and some agricultural workers, newspaper carriers usually are exempt from worker's compensation insurance programs. However, Wisconsin, Maryland and Kentucky extend worker's compensation to all newspaper carriers, and New York extends it to children who work as carriers. So if injured on the job, most workers are typically responsible for their own medical expenses unless they obtain accident insurance themselves or through plans provided by their employers.
Other Insurance Coverage
If newspaper carriers aren't eligible for worker's compensation insurance, they or their employers can buy accident or liability insurance. Many newspapers won't pay for the coverage but will require their carriers to buy it. Accident insurance covers direct and indirect bodily injury, disability and death. However, it doesn't cover illnesses or medical conditions. Liability insurance covers bodily injury to others, property damage and personal injury liability.
Consequences of Being Uninsured
Newspaper carriers who don't carry accident insurance and aren't covered by worker's compensation might not receive the rehabilitation or other medical treatment they need following an accident. The carriers (or their parents) also could face expensive hospital and doctor bills. Non-fatal injuries to newspaper carriers aren't tracked, but from 1992 to 1997, 99 newspaper carriers were killed on the job, including 11 younger than 18.