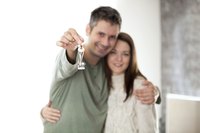 Tenant screening sometimes begins with the prospective landlord or his representative running a credit report. An eviction doesn't automatically show up on a credit report, but because it likely involved collection action for unpaid rent or a court judgment against you, odds are good that there's incriminating evidence there. Even if it isn't in your credit report, a thorough tenant screening will uncover a past eviction.
Levels of Screening
Each landlord applies whatever level of screening she thinks necessary. One may simply ask tenants for a written list of past landlords, then call to learn if the tenant caused problems. Another may also pull the tenant's credit report. For a more thorough research job, the landlord can hire a tenant screening service. The more effort a landlord goes to in order to learn about a prospective tenant, the more likely a past eviction will come to light.
Screening Services
Screening services pull your credit report, scour court records, conduct a criminal background check and contact former landlords. If one of your previous landlords evicted you, or you left owing him money, the screening will probably find this out. Most landlords see eviction as a warning sign against renting their property to you.
Solving the Problem
It may not be too late to clean up your rental history. If you left a past home with rent unpaid, contact the landlord and offer to settle the balance. When the screening company calls him, it may hear a more favorable report if you don't owe money. In some situations -- such as if you won an eviction case against the landlord -- you may be able to get the court record of the case wiped away.