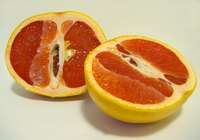 High blood pressure results when fat and cholesterol accumulate along the walls of arteries. Because the heart must work harder to pump blood through the constricted arteries, blood pressure is increased. Also called hypertension, high blood pressure is treated with certain drugs, but it can also be lowered by eating grapefruit. However, grapefruit can also be lethal if consumed with certain high blood pressure medications.
Antioxidants
Red grapefruit has been found to be effective in moderating high blood pressure because it contains antioxidants that are useful in lowering triglyceride levels that contribute to increased blood pressure. Red grapefruit is richer in antioxidants than white and therefore a better choice for treating high blood pressure.
The Effects of Red Grapefruit
In fact, red grapefruit has been shown to be more effective in lowering blood pressure than statin (cholesterol-lowering) medications.
Consumption
One to two grapefruits (preferably red) can be consumed before a meal daily to lower blood pressure as long as you're not taking any medications that can cause adverse side effects. Such medications include calcium channel blockers (blood pressure medication treatment) and statin drugs.
Drug-Food Interaction
Grapefruit can cause a dangerous reaction in individuals taking certain medications to treat their high blood pressure. According to an article in the "American Journal of Nursing" (December 2004), an enzyme in the liver, cytochrome P-450 3A4, breaks down grapefruit into useful components. But it also prevents the breakdown of certain medicines and substances as well. Therefore, a patient can become quite sick as the effectiveness of the medication is substantially diminished. Consuming grapefruit or grapefruit juice with medications such as calcium channel blockers (CCBs) and statin medicines is not advised.
Checking With Your Doctor
Consult with your doctor first before including grapefruit in your diet if you have high blood pressure--it can be helpful to you or life-threatening. Make sure you read the warning labels on all your blood pressure medications carefully.