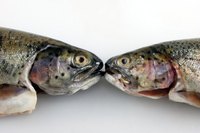 Glacial lakes are strung like brilliant jewels across the mountains of Washington State, and there the trout grow fat on midges, mayflies other springtime delicacies. Sheltered by thick forests of hemlock, cedar and fir, the lakes in Washington comprise an angler's heaven, and trout fishermen wait excitedly for spring trout season to open.
Fishing Licenses
Fishing licenses for the current fishing season are available every year on April 1. You can buy a fishing license online or at outdoor stores, convenience stores and gas stations. Both resident and non-resident licenses cover fish and shellfish; there are special endorsements for salmon/steelhead and multiple poles.

Fishing Seasons
The opening day of lowland lakes trout fishing season is April 24. Every year, hundreds of thousands of anglers participate in the opening day of trout season.
Trout Species
Washington streams, rivers and lakes teem with rainbow, cutthroat or eastern brook trout, brown trout, mackinaw or lake trout (actually in the char family), and bull trout/Dolly Varden (also char). A few lakes have been stocked with the elusive golden trout, Kamloops-strain rainbows, Montana black-spot (a cutthroat sub-species) and Atlantic salmon. Ocean-run cutthroat trout are especially prized.

Fly Fishing
Fly fishing is a popular and traditional way to catch trout. Many anglers take lessons at fly fishing schools across the state, to learn how to fly fish or to brush up their skills for a new season.

Catch and Release
Make sure to review the regulations about trout fishing. For example, many rivers and streams--including Central Washington's spectacular Yakima River, the Upper Columbia in northeastern Washington and the Methow River in north central Washington--allow only catch-and-release fishing during trout season.