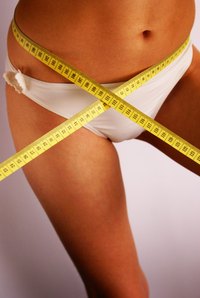 Back in the '50s, girdles were highly constructed undergarments made from heavy-duty elasticized synthetic fabrics such as Lycra. In more recent times, the heavy-duty girdle has mostly been replaced by lightweight undergarments known as body shapers that are nearly seamless and use double panels of fabric and strategic seaming to contour the body. Body shapers are not only worn by women who are larger than their ideal size; slimmer women choose them also to disguise problem areas when wearing body-skimming clothing.
Coverage
Body shapers come in a variety of styles, colors, and brands. Styles made to be worn from the upper body down to the waist can prevent "bra bulge." Additionally, there are one-piece garments available that cover both the upper and lower body for overall slimming, body shapers that cover just the lower half of the body to the knees and styles that cover the area from the waist down to the ankle. Some women prefer them to thongs for reasons involving comfort; a body shaper that goes from waist to thigh serves the same purpose of not showing a visible panty line under clothing.
Post Surgery
After cosmetic surgery or other medical procedures such as mastectomy, compression garments or girdles may be worn to support muscles and speed healing. These undergarments are specifically constructed for this purpose and are more heavy duty than regular body shapers. Still, an added bonus is the smoothing and slimming of the body that these undergarments provide.
Price
Like all clothing, body shapers come in a wide variety of price points depending on brand and materials used. As in all things, you get what you pay for. Once you find the style that works for you, buy the best body shaper you can afford without breaking the budget and follow the manufacturer's directions for washing and drying to make the garment last longer and retain its shape.
A Temporary Solution
Some manufacturers claim that their body shapers, usually marketed as "thermal" bodywear, will help you lose weight over time; however, these claims have not been scientifically proven. Thermal bodywear is made from tightly knit, heavier weight fabrics that cause that part of the body to perspire and, therefore, shed water. When the fluids are replaced by drinking water, the "weight loss" disappears. Body shapers are a terrific temporary solution to make the wearer feel more confident and look shapelier in clothes, but they have no long-term, permanent benefits.
Try Before You Buy
The most important consideration when purchasing a body shaper is fit. It should be firm enough to smooth the body, but not bind you so tightly as to be uncomfortable. If you can barely breathe or can't sit or walk without discomfort, you should select the next larger size. Visit the lingerie department or store and try on various brands and sizes to find your perfect fit. If the body shaper ends at the thighs, try it on, put on pants or a dress and then sit to check for bulges that may show through clothing if the body shaper is too tight. Avoid purchasing online unless you're selecting a brand that you've worn previously.