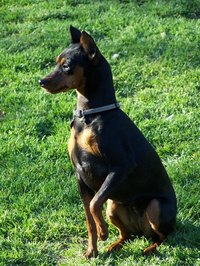 Min Pins, short for Miniature Pinschers, are a mixed-breed puppy that is small in stature. Min Pins have high energy but are suitable to apartment living due to their small size and their ability to remain active indoors. They have short hair and are considered part of the American Kennel Club's Toy group. They are recognized by a variety of kennel clubs and make amiable pets.
Origins
Though it resembles a miniature Doberman Pinscher, the two are entirely separate breeds. The Min Pin is a German dog breed, combining elements from the German Pinscher, the Dachsund and the Greyhound. According to the Dog Breed Info Center, this breed started off as a ratter; they would control the rat populations in barns for their owners.
Physical Appearance
Min Pins are small dogs, reaching only 10 to 12 inches in height and weighing 8 to 9 lbs. The coat can be black with rust markings, chocolate with red or stag red (red with black hairs). The dog has a muscular body, pointed ears and snout and strong legs. The ears and tail are usually cropped.
Temperament
Min Pins are generally good-natured, but they need strong leadership from human owners or they will take on a pack leader role in the household. They are very intelligent and can learn to follow orders, but they are also innately curious, which can lead to trouble if they are curious about how to escape from confinement or about the taste of your favorite shoes. They do best if given proper obedience training at a young age.
Health
Min Pins are generally healthy, with only a slight chance of contracting a genetic eye disorder. They are hardy but also somewhat fragile; they cannot withstand roughhousing or falls from large heights. If properly cared for, a Min Pin's life expectancy is 15 years.
Care
Min Pins need daily walks to get proper exercise. Regular playtime is also appreciated but will not substitute for a walk. Canis Major recommends basic coat care and infrequent bathing to avoid drying out the skin, as well as regular nail trimming and oral care. Min Pins are average shedders, according to the Dog Breed Info Center, and you can remove excess hair with a good rubdown with a wet cloth.