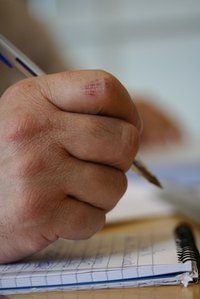 A supervisor's role is very important in an organization. Companies invest many dollars in research and development in search of identifying benchmarks for performance improvement strategies. They know that research is required to improve their bottom line, so they closely monitor their human capital--employees. Supervisors directly oversee these employees. In fact, the role of supervisors is expanding, as they now support departmental objectives through scheduling and quality control. This expansion is caused by changes in technology, policies, procedures and practices. In turn, supervisors need training to enable them to guide employees toward organizational measures of success.
Identification
To improve the performance of supervisors, human resources must determine differences between supervisors' desired competencies and tasks and actual competencies and tasks. In "Skills of an Effective Administrator", R.L. Katz explains that competencies of supervisors are based upon four factors--conceptual, interpersonal, technical and political. Supervisors analyze and diagnose complex situations, understand and motivate people, capitalize on knowledge and experience, and establish connections.
In "Academy of Management Executives: The role of the Manager-What's Really Important in Different Management Jobs", A.J. Krate explains that supervisors act as gatekeepers--keeping employees current about work procedures--while providing motivation, feedback, dispute resolutions, alignment of goals and work, improvement of communication, and career assessments. Where do they fall short? In which areas do they need improvement?

Supervisory Development Methods
Based on L.R. Bittel and J. W. Newstrom, to expand the knowledge of supervisors in an organization, human resources must use lectures, discussions, case studies, observations, and films. Methods to use for reinforcement of skills include role plays, demonstrations, job rotation, supervised practice, problem solving techniques, games, and simulations. To change the attitudes of supervisors, HR must use role plays, demonstrations, case studies focus groups, conferences and videos. To develop their ways of thinking, supervisors must be presented with case studies, observation, critical problem solving, and case study analyses.
Features of Supervisory Development
According to D. Van Tiem, J. Moseley, and J. Dessinger an effective supervisor training program should: Be designed from a strategic plan Allow for ambiguity in the supervisory role Base content upon verified and defined competency needs Maintain consistency and continuity, while allowing flexibility in the program Verify suitability and effectiveness of development methods or techniques before introducing them Omit courses or subject matter that does not clearly meet competency needs Articulate with the organization's beliefs, cultural norms, goals, policies and relationships Provide measurement and evaluation of the effectiveness of each element of the program
Supervisors learn best from reality-based practice and concrete examples. In addition, a balanced approach to selection of supervisory development methods is essential.
Challenges
Based on S. Robbins and D. DeCenzo, the following factors should be discussed prior to supervisor training: 1) Describe how technology is changing the supervisor's job. 2) Explain how globalization affects supervisors. 3) Describe why supervisors might be able to "thrive on chaos". 4) Explain why the supervisor's role is considered ambiguous. 5) Explain how a supervisor can reduce cost. 6) List actions a supervisor can take to maximize employee motivation. 7) Describe the essential elements of a supervisory development program. 8) Which topics or courses should be included in a supervisory development program? 9) How should a supervisory program be evaluated?
These factors may also be discussed during supervisor training.
Effects
If a work environment is unstable, lack of trust may hinder participation in a supervisor training program.
Interaction caused by mixing strong and weak performers is critical for the development of high achieving supervisors. This type of strategy may foster improvement of both interpersonal and political competencies.