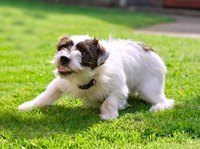 Rabies is always fatal. If you've been bitten by a dog of unknown rabies status, get yourself to a doctor immediately. While there's no treatment for rabies, you can receive shots that will prevent the disease if you've been exposed. Don't panic -- odds are the dog isn't rabid, especially in the United States. However, because of the disease's 100 percent fatality rate, you can't take chances.
The Rabies Virus
The rabies virus affects the brain and central nervous system, causing an agonizing death. It spreads from saliva contact with an infected animal -- any warm-blooded creature is vulnerable. Rabies symptoms start with the animal's personality turning 180 degrees -- a wild animal without fear of you is likely rabid. A friendly dog might become vicious, and a shy dog might demand a lot of attention. Hypersensitivity to light and sound, seizures, appetite loss, fear of water and hypersalivation may follow. At the end, the dog becomes paralyzed and dies. It's important to keep your dog current on his rabies vaccination, and it's also the law.
Canine Quarantine
If the dog that bit you is available, an officer from your municipal health department can confirm whether the dog is up to date on his rabies shot. If not, state laws usually require a mandatory 10-day quarantine of the animal. If the dog doesn't show signs of rabies within that time period, he's not infected. Transmission of rabies from one animal to another can occur only when the infected animal shows signs of the disease. An animal in the active stage of rabies dies within 10 days. If the dog in quarantine dies, his head will be sent to a state laboratory for confirmation of rabies.
What to Do
If you're bitten, wash the bite wound thoroughly, using soap and water. Visit your doctor and report the bite. Your physician will consult the local health department -- and possibly the state health department -- to decide whether you should receive a rabies vaccination. If you know the dog and believe the dog was likely vaccinated, the health department can confirm that. If you're bitten by a strange dog, give the health officer a description of the animal and the location where the bite took place. If the dog can't be found, you will likely undergo the rabies vaccination.
Rabies Vaccination
If you've heard horror stories about the rabies vaccination, it's likely people are talking about shots given in the distant past. Modern rabies vaccinations are given in the arm, much like any other inoculation. The Centers for Disease Control describes "postexposure prophylaxis" as one immune globulin shot followed by four doses of rabies vaccine over a two-week period. You'll get the immune globulin and first rabies shot at the same time, preferably soon after exposure. The next three rabies shots are given on the third, seventh and fourteenth day after the initial vaccination.