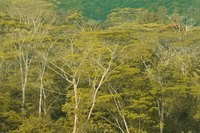 The rainforest consists of five main parts: the overstory, the canopy, the understory, the shrub layer and the forest floor. An incredible 70 to 90 percent of rainforest life survive in the trees alone, shrouded in each of these tropical layers. The canopy is a green blend of billions of leaves acting as a solar umbrella for the rest of the forest and is stationed at the very top of the forest. This layer plays an important role on regional and global climates since it provides photosynthesis and interchanges vast amounts of atmospheric gases, water and heat that sustains life for the rest of the world.
Features
Plants in the canopy receive so much sun that the photosynthesis encourages a massive growth of colorful fruits, seeds, varieties of flowers and leaves. This growth attracts and sustains a wide diversity of animal life. This includes squirrel monkeys, toucans and slow moving sloths. Orchids are typical flowers found near the canopy which provide water for these animals due to their funnel shape. Leaves in the canopy are large and waxy to preserve water well.
Significance
Billions of leaves make up the canopy of a rainforest. These leaves act as miniature solar panels that convert sunlight to food by photosynthesis, which is the process where plants are able to change carbon dioxide and water in the atmosphere directly into oxygen and simple sugars. This oxygen and sugar is a main source of supplemented power for the entire rainforest. Besides converting solar energy and regulating the word's climate, the canopy also shields the lower rainforest from hard sunlight, winds and heavy rainfall. It also retains the moisture of the forest below.
Threats
The canopy and the rainforest itself is an essential ecosystem being threatened today. According to the Nature Conservancy, more than half of all the world's rainforest has been destroyed and it's mainly because of people's actions. People are wiping out entire swaths of rainforest that equates to roughly 31 million football fields of pummeled rainforest yearly. People's "slash and burn" techniques for lumber and farming pastures lead to deforestation. These threats kill off habitats, species of trees and animals, and even possible sources of medicines yet to be discovered.
Considerations
You can make small steps in your daily life that can help save the canopies of the rainforests that are still surviving. Recycle paper to create less waste. Purchase only wood that is grown in non-destructive and environmentally friendly ways. Buy specifically recycled products and non-timber paper products to benefit the environment. Educate yourself about rainforests so you can become a wiser consumer.
Geography
Two specific types of rainforests exist in the world. Temperate rainforests are small and scattered forests always found on the coast of continents. Larger temperate rainforests are located on the northwest coast of North America, southeastern Australia, Tasmania, New Zealand, and the southwest coast of South America. Tropical rainforests grow in equatorial regions near 25 degrees north and south latitude.