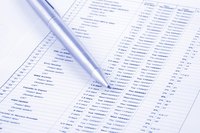 Performance reports are a cornerstone of many major business decisions. When a business is small, decisions are usually made by the owner and address the direct needs of the company, which is still trying to build a customer base and deal with accounting practices. However, when a company grows, it begins to set more long-term strategies and depends on managers to carry out plans to meet marketing, financial and production goals. Performance reports help the company see how these goals are being met.
Definition
A performance report is a statement of data that examines some type of activity over a period of time. The activity of an entire branch of the company could be examined or just that of a manager working on a single project. The time frame, too, can vary. Some projects last weeks while others can last months or years before they produce results that can be compiled in a performance report.
Comparison
A key part of the performance report is comparison. The goal of the report is to compare the results of the project with what the project was intended to accomplish. Budgeted or standard measurements are used to compare actual findings with projected numbers. The company might have budgeted a certain amount of money per month to a project when the project actually used a different amount--this is an important comparison and helps the company decide how effective the project was.
Variance
When a performance report shows that the actual results of a project differed from the projected results, this is called a variance. Variances are unavoidable, but they can be either positive or negative. Falling under budget would be a positive variance, but failing to produce as many products as forecasted would be a negative variance.
Example
Suppose a marketing manager was given a project to raise sales in a branch by 10 percent in one year, using a budget of $1,000 per month. At the end of the year, a performance report is conducted, and it is found that the manager managed to increase sales by 11 percent but spent $1,200 per month to do so. The company would create a new plan to maintain the same results while decreasing the funds spent on marketing.
Performance Audits
A performance audit produces a critical type of performance report. Certain firms, especially those with fund and portfolio managers, may try to only show the accounts that are profitable in their marketing materials. A performance audit occurs when a third party accounting firm steps in and reviews the accounts of that manager. They produce a performance report showing true account results according to global investment performance standards.