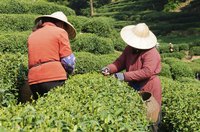 Tea is the world's No. 2 beverage, second only to water. In the United States, tea sales rose from $2 billion in 1990 to $10 billion in 2013. The U.S. tea market may be broken into four segments: tea sold in supermarkets; tea sold in coffee and tea shops or restaurants; specialty tea suppliers; and ready-to-go-teas. At the time of writing, most tea sold in the U.S. is in tea bags, and 85 percent of the tea consumed is served over ice.
Slow Supermarket Growth
The Tea Association of the USA predicts on its website that the demand for tea will increase steadily for all four segments of the tea market, but not to the same level. The association says supermarket growth for teabags and loose-leaf tea will be sluggish for various reasons. For example, large-size packages and discounts for bulk buys encourage consumers to buy infrequently and stockpile supplies, slowing purchases. The growth in tea purchases at restaurants and other food-service stores will also be slow but steady.
Specialty Offerings
The association says ready-to-drink teas have the most growth potential in the U.S. market. Ready-to-drink tea is growing by 12 to 15 percent a year, partly because it's marketed differently from other teas. Makers of ready-to-drink tea promote it as a healthy alternative to sodas, and it's often sold on the same shelves as water or soft drinks. That gives it greater visibility than products clumped in the "tea" section of the supermarket. Specialty teas, such as chai and exotic imported brands, make up the second-fastest growing segment. They offer new alternatives to consumers who don't want regular black tea.
Growth Leads to Growth
"The Washington Post" says the growth in specialty teas and new tea products -- new instant teas, for example -- is attracting new tea drinkers. New drinkers, in turn, make the tea market larger, which encourages retailers to invest more in selling tea. The Tea Association agrees that tea's growth encourages more growth: If supermarkets sell more tea, for example, they may allot it more space in the aisles. The association predicts a $15 billion U.S. tea industry by 2017.
Possible Problems
The nonprofit Forum for the Future sees more potential problems than the association does. Its special report on tea notes that climate change is a problem for many tea-producing countries, which have already had to switch from relying on rain to irrigating crops. Increasing world populations may lead to tea growers switching to food crops. Population growth in China has resulted in China drinking more tea and exporting less. Such pressures may make it hard for the U.S. market to maintain a steady supply.