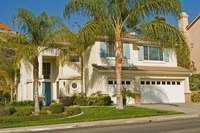 The closing for a home occurs when all parties involved--the buyer, seller, lender and, often, attorneys--are present at a conference and the property ownership is transferred from the seller to the buyer. At the closing, all closing costs have been or are paid. HUD-1, the form provided by the U.S. Department of housing and Urban Development, lists all closing costs, and its completion is required before the closing. Costs vary from municipality to municipality, and in some cases payment is negotiable between the buyer and seller.
General Costs
Seller's costs are usually much higher than the buyer's because of the payment of a likely mortgage and the real estate broker's commission. Broker's fees are usually between 4 percent and 7 percent of the home's sale price. Buyer's costs--according to BankRate.com, which ranks buyer's closing costs by state--range from an average $2,276 in the least expensive states, Nevada and Kansas, to $3,855 in the most costly, Texas and New York.

Buyer's Fees
The buyer will probably have closing fees for such things as the mortgage application; inspection of the house to determine its condition; appraisal of the house value; and home warranties insuring that major home systems are functioning. Payment for "points," which bring down mortgage interest rates, are optional. One point equals 1 percent of the loan principal. Payment for an escrow, or reserve fund, for taxes is usually required.
Seller's Costs
In addition to paying off such high-ticket items as liens--including the mortgage or home equity loan--and the broker's commission, the seller has other costs. They usually include a property survey; title insurance, a policy insuring the title validity; local and state taxes; and capital-gains tax, a tax on the seller's profit in the sale. In some areas, specific inspections for items such as the septic tank or pests are required.
Shared Fees
Property taxes for the month of the closing are shared between seller and buyer. The seller pays the portion of the taxes up to the date of the sale; the buyer thereafter. If the closing was June 15, for example, the buyer would be responsible for taxes from June 16th on, and the seller would be responsible for up to June 15.
Buyer and Seller Fees
Both buyer and seller pay attorney fees, if each party is represented by an attorney at the closing. Attorneys charge either a flat rate or an hourly one. There are other minor costs that might apply to both parties, such as courier, faxing and copying fees.