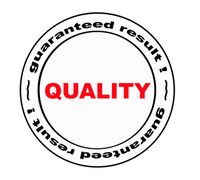 Quality management is the single most important process in any organization, whether for profit, nonprofit or an organization such as a health-care maintenance organization. It defines the purpose of quality for the organization it represents. Quality management is often forgotten, but it guarantees the quality in output from any organization and exists as an asset that always adds value to it.
History
Quality management started to be introduced in the late 1800s with pioneers like Henry Ford and Frederick Winslow Taylor, who realized what limitations existed in mass production. Quality management started with the spot-checking of products as they rolled off the finish line. Fairly soon, however, it was realized that this was not enough to guarantee quality with every single item. As a profession, quality has grown considerably, and today it ranks as a recognized profession among the other well-defined professions such as engineering, accounting and medicine.
Significance
Quality has become much more significant since the world's demand for products has grown exponentially. Along with more demand, the demand for specialist products and quality in production have grown together. Competition has been a strong factor in this and so has something known as "the global village" (where companies are competing on a global level). Probably the most significant change has been the change in society, which has driven a demand that never existed before. And this global sea-change has made a significant difference to any quality considerations.
Methods
Quality methods have evolved considerably since their beginnings in the late 19th century. An example of a modern quality management system is contained in Six Sigma, which attempts to control quality improvement through statistics. Since improvement is achieved by making sure every single item measures up to strict quality criteria, a statistical method is a highly useful method of quality control because it focuses on achieving quality in quantity.
Considerations
When considering a quality management system, it is of paramount importance to consider a Quality Management System (QMS) that is expressed as resources, processes, procedures and organizational structure required for quality management. Resources will require specific technology and a share on the networked computer system. Processes along with a new set of procedures will have to be taught and learned by participants in the scheme. And most importantly, in order to manage the system, an organization will need to be built to support it.
Conclusions
The concept is described by the International Organization for Standardization in ISO9001:2008 and gives good information on design, development and delivery of a service, which complies with QMS. There are several other publications that guide further on how to set up such a system and the details. Meantime, there are several organizations that seek to identify and recognize top quality in organizations. Each of them has an award scheme that provides an incentive to perform well.