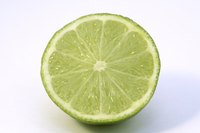 Asians have been using lime and honey in water for weight loss since time immemorial, according to Tess Thompson on the website Native Remedies.
According to Organic Facts, a glass of warm water mixed with lime juice is not only an excellent weight reducer, but also an anti-oxidant drink. The website says lime gets its fat-reducing properties from its high levels of citric acid. No medical studies back up these diet claims, however.
Nutritional Composition
Lime juice is rich in vitamins and minerals, especially potassium (109 mg in 100 grams), according to the website Calorie Counter. Lime juice also contains calcium, iron, magnesium, phosphorus, sodium and in lesser quantities, zinc, copper, manganese and selenium.
Vitamin C is the most abundant in lime juice, with 29 mg per every 100 grams, according to Calorie Counter.
Method
Add warm water (according to your taste) to the juice of half a lime and a teaspoon of honey, and drink it first thing in the morning. This concoction also helps to cleanse the system, according to Native Remedies. You can add more lime juice for a stronger taste, but don't increase the quantity of honey. According to Organic Facts, you should have only two glasses a day.
Other Benefits
Some people say lime juice can promote good digestion. They also believe it can help in the treatment of arthritis, rheumatism, among other health conditions, according to Organic Facts, but no scientific studies support these conclusions.
Lime juice with water is a natural remedy, therefore it does not have side effects, according to Organic Facts.
Prevention
Weight gain and obesity is linked to many factors, including a busy lifestyle. Healthier lifestyles, which includes balanced meals and regular exercise, is the best way of avoiding weight gain, according to Native Remedies.
Warning
According to Organic Facts, the seeds of lime and other citrus fruits are poisonous when ingested in large quantity. Therefore, avoid swallowing the seeds when you use limes.
Lime juice and water should not be used as a substitute to a sound diet for weight loss. It is advisable to speak to a doctor before starting any alternative diet or treatment.