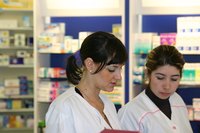 A pharmacy technician works in a pharmacy setting in a hospital, a health care facility or a store under the direct supervision of a licensed pharmacist. The main duty of the technician is to help pharmacist prepare prescribed medications. In Ontario, pharmacy technicians are in great demand because of constant growth in health care industry.
Duties
Pharmacy technicians in Ontario work in health care facilities, hospitals as well as pharmacy stores. Their duties are directly or indirectly related to handling of drugs. In a typical pharmacy setting, a pharmacy technician would prepare prescription medications, fill those in appropriate containers, and label them. He would also be required to interact with patients to gather their personal information for insurance purposes and enter the details in pharmacy's computer system.
The salary range of pharmacy technicians depends on the work settings, level of education and workload.
Education
A pharmacy technician in Ontario is required to possess at least a high school diploma. However, most employers prefer to hire technicians who have completed at least some college education as well.
Certifications
In Canada, a pharmacy technician is not required to be certified. However, a certification definitely increases the chances of a technician to receive a good job offer and provides her leverage to negotiate the terms of the appointment.
The main certification body for pharmacy technicians in Canada is the Pharmacy Examining Board of Canada. The board has developed a standardized assessment process to ensure that the technicians possess the necessary education, knowledge and skills to effectively and safely perform the required duties.
Licensure
In Canada there are no licensing requirements for pharmacy technicians.
Salary Range
In Ontario, the hourly rate of a pharmacy technician ranges between CAD$10.73 and CAD$14.71.
As a comparison, in Alberta a pharmacy technician earns in the range between CAD$13.51 and CAD$16.50 per hour. In British Columbia and Manitoba, pharmacy technicians earn, on average, higher hourly wages of CAD$11.99 - CAD$16.11 and CAD$11.71 - CAD$16.05 respectively. Meanwhile, a pharmacy technician in New Brunswick should expect to receive hourly compensation in the range CAD$10.99 - CAD$14.55, while in Nova Scotia the hourly wage ranges between CAD$10.05 and CAD$12.18. As a final comparison, in Quebec the hourly rate for pharmacy technicians is between CAD$10.30 and CAD$13.23.