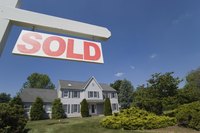 The term closing date denotes the time at which a real estate sale becomes final. It is not the same as the day on which the parties sign the sale contract. Rather, the closing date usually follows several weeks after the contract signing. The deliberate delay gives the buyer time to arrange home inspections and financing, and both parties time to comply with their respective obligations in the purchase agreement. There are several processes that must be completed before the closing date arrives.
Setting the Closing Date
When the parties sign the sale contract, they agree the exact closing date. The date depends on the amount of work that's necessary to complete the loan documents and other closing paperwork and carry out any agreed-upon work to the property. Usually, the closing date gives time for a thorough home inspection and for clearing up any issues flagged by that inspection. The date can also reflect the amount of time the seller thinks he needs to find a new home.
Financing Arrangements Influence the Closing Date
The buyer must secure financing, or have the cash to fund the purchase, in full on the closing date. At the closing, he must offer proof from his lender of the loan, and the lender usually wires money to the seller's account. With a cash sale, the buyer hands over the purchase price in some form on the closing date, often by certified check.
Delivering Clear Title
The seller for his part must ensure that the property has clear title, without any liens or unexpected encumbrances, at the closing date. The buyer's title company checks the seller's title and the seller usually signs a warranty deed that warrants the seller is the authorized owner with full rights to sell the property.
Closing Paperwork
All paperwork related to the sale, including the warranty deed, must be completed and ready to sign on the closing date. The deed is registered on or shortly after the closing date with the local land registry office by an official involved in the closing, often an attorney or a member of the title company.
Closing Meetings
It is customary in some states, particularly the Eastern states, for the buyer and seller to have a physical meeting to close the deal. This often takes place at the offices of an attorney or the title company. During the meeting, the parties sign all the paperwork and the buyer delivers payment. Western states more commonly close in escrow. In this scenario, the title company acts to transfer the money and deed without a physical meeting of all parties.